Public libraries get online access to research journals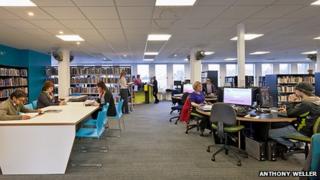 Hundreds of thousands of research journal articles are to be made available on computers in public libraries.
The Access to Research initiative will give the public access to articles on health, biological research, engineering and social sciences for the first time.
More than 8,000 journals from around the world are included.
It is hoped this will encourage more people to use public libraries.
The Publishers Licensing Society (PLS) is behind the scheme.
It ensures publishers are paid for the copying of extracts of their publications, including digital copies.
Several major publishers have signed up to Access to Research, meaning their material will be available free, but only when viewed by computer terminals in public libraries.
The PLS says the move will "strengthen the position" of public libraries at a time when they are "under pressure".
"It will have an immediate effect in extending access to the great majority of journals for the benefit of everyone in the country," it adds.
The technology involved has already been tested by 10 local authorities in 250 public libraries and the initiative will now be extended throughout the UK, initially for a two-year pilot.
'Global knowledge'
The Chartered Institute of Library and Information Professionals (Cilip) has warmly welcomed the scheme.
"Libraries have always been and should remain a beacon for learning and education," said Darren Smart, from Cilip, but he added that there was a need for further action.
"With the right reform of copyright laws to reflect the digital age, and investment in the public library service, small businesses, students, researchers and local communities across the country can get the right support for their information needs."
Universities and Science Minister David Willetts said Britain's "excellent science and research base is world-renowned and one of our greatest assets".
"With less than 1% of the global population, we produce over 6% of global articles," he said, "but this still means the vast majority of global research is not subject to the UK's open access policy.
"This will connect people, including students and small businesses, to a wealth of global knowledge, maximising its impact and value."