UK university applications rise by 4%
By Angela Harrison
Education correspondent, BBC News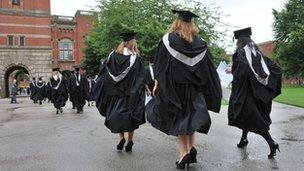 Applications to universities in the UK have risen by 4% compared with this time last year - with many more women than men applying.
There are warnings that men are becoming a "disadvantaged group" in terms of going to university because they are less likely to apply than women.
The figures, from Ucas, show 87,000 more women than men applied this year.
Ucas chief Mary Curnock Cook said this "stubborn gap" needed urgent attention.
In total, 580,000 people have applied to start undergraduate courses at universities in the UK for the next academic year, compared with just under 559,000 last year.
The figures include people applying from overseas as well as from within the UK, but a similar rise was seen in both cases.
There was a slight fall in applications from people in Northern Ireland, but otherwise, numbers were up across the UK.
The figures measure applications to 15 January, a key date for those applying, although students can still apply for courses starting this autumn.
Ucas says that given that the number of 18-year-olds in the population has fallen, application rates for that age-group in the UK are at or near the highest levels.
It says 35% of 18-year-olds in England have applied to university.
There had been fears that the higher tuition fees introduced in autumn 2012 would put people off applying.
Numbers applying from the UK did drop that year, but they have been recovering, although not to the levels seen in 2010 or 2011.
According to Ucas, young people from disadvantaged areas in England are almost twice as likely to apply as they were in 2004.
Ms Curnock Cook said: "This analysis shows a remarkably persistent growth in demand for higher education from all demographic backgrounds and for institutions across the spectrum in the UK.
"Amid encouraging patterns of demand from mature and disadvantaged students, there remains a stubborn gap between male and female applicants which, on current trends, could eclipse the gap between rich and poor within a decade.
"Young men are becoming a disadvantaged group in terms of going to university and this underperformance needs urgent focus across the education sector."
Paul Clark, from Universities UK, which represents Britain's universities, welcomed the rise in applications overall, saying: "It is particularly significant that the 2012 fee rises do not appear to have put off disadvantaged young people from applying to university.
"Universities have been very successful in attracting disadvantaged students and 2013 saw the highest ever entry rates across the UK for this group."
The data out on Friday also shows some recovery in the numbers of mature students applying for degrees, although they are not yet back to levels seen in 2010.
Conor Ryan, from the Sutton Trust educational charity, said: "We welcome today's statistics, particularly the narrowing of the gap between the least and most advantaged neighbourhoods. With a 2.5-fold gap still existing, there is of course more to do."
Related Internet Links
The BBC is not responsible for the content of external sites.