No plans for blanket school holiday cut, says Gove source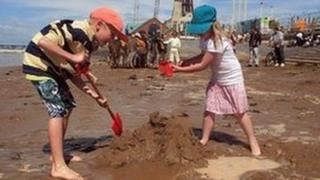 Sources close to Education Secretary Michael Gove say the government is not planning blanket changes to bring in a longer school day and year in England.
A former adviser to David Cameron has told the Sun the Tories are considering a plan to cut school holidays.
Legal changes are already under way that will make it easier for more schools to vary their days and terms.
They are due to be discussed by MPs next week.
But sources say there is no plan to impose such changes.
Former adviser Paul Kirby is quoted in the Sun as saying changes being looked at would see school days extended until about 18:00, and that school holidays for England would be cut from the current 13 weeks a year to seven.
In a personal blog he said this would be the "perfect election promise", which would appeal to working parents struggling with childcare.
Online petition
There has been a recent outcry over the high cost of going away during the school holidays and an online petition calling for a cap on prices charged by holiday firms has been signed by nearly 150,000 people.
The travel industry says its prices are led by the principle of "supply and demand", but one insider said the idea of cutting school holidays would only push prices up further.
Under a bill going through Parliament, schools in England will not have to go through their local authority to change their holiday periods.
Some schools already have an extended day, either by running clubs and activities after school or by providing after-school childcare.
But the government says changes in the Deregulation Bill - which will be discussed by MPs on Monday - will give all schools more freedom in this area from September 2015.
Sources close to Mr Gove told the BBC the government was encouraging schools to have longer days and terms but had not considered a specific proposal.
They said they would not want blanket legislation in this area as it would detract from efforts to give schools more local control.
And a spokesman for the Department for Education said: "We are already giving all schools the freedom to set the length of the school day and term.
"Many academies and free schools offer extended opening hours, and we want more schools to take up these freedoms.
"We will obviously consider recommendations for further reforms."
'Limits'
A spokeswoman for the parenting website Mumsnet said: "We have the highest childcare costs and the longest working hours in Europe.
"Some families really struggle with the long break and short school hours, because it is hard to find childcare solutions. Many will welcome a longer day and shorter school holidays, while others will take a more nostalgic view, and would rather a long break when the weather is good and the kids can recharge."
The website said most parents felt they were "exploited" by holiday companies.
Head teachers and teachers have given a mixed reaction to the suggestions.
Russell Hobby, the general secretary of the National Association of Head Teachers, said: "It is good for schools to be open longer hours to offer a wide range of sporting and creative activities, as well as providing quiet places for homework. This also helps parents with childcare.
"There is, however, a limit to the amount of time young children can do productive academic work - and the real purpose of schools is education.
"Those proposing the policy do need to explain where the money will come from to pay for the longer working hours or extra staff required."
'Finite number'
Christine Blower, the general secretary of the National Union of Teachers, said for many children, spending too much time in school would be counter-productive, although she supported the idea of schools being at the heart of a "hub" of services provided for the community.
"Children and young people deserve a childhood and contrary to the suggestion that this will please parents the majority will not support this idea at all," she said.
"Children are not an inconvenience to fit in around work. Equally education should not be viewed as a production line."
A spokesman for the group representing travel companies, ABTA, said holiday prices reflected demand and that the best way of cutting prices was for schools to stagger holidays.
"More people in the UK and across Europe want to take holidays in July and August, at Easter and at Christmas, therefore prices rise during these times as there is increased demand for a finite number of hotel rooms and flight seats," he said.
Some have complained that allowing more schools to set their own holidays would bring chaos for families, particularly those with children at different schools.
Attempts by Nottingham City Council to rearrange the school terms and cut the school summer holidays led to strike action by teachers in 2012, although a shorter summer holiday was eventually approved by councillors.