Ban e-cigarettes from school premises, heads say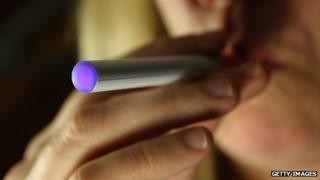 E-cigarettes should be banned from school premises to stop children assuming they are safe, heads say.
Head teachers' union NAHT is worried pupils may want to copy parents they see using them in the playground.
It comes as a ban on sales of the nicotine aids to under-18s is announced by the government.
The Electronic Cigarette Industry Trade Association said schools had a right to ban any activity on their grounds but the thinking was "muddled".
E-cigarettes were originally designed to help smokers quit, and some researchers have said they could save many thousands of lives in the UK.
But concerns are growing that young people may start using them or "vaping" without ever having smoked.
Experts say it is not yet known what harm the tobacco-free devices could inflict and that their contents could be damaging young people's health.
But manufacturers insist they are much safer than regular cigarettes as they do not contain lung-damaging tobacco or smoke.
The NAHT discussed the issue after some head teachers reported seeing parents using e-cigarettes in their playgrounds.
Head teacher and chairwoman of the NAHT policy committee, Sally Bates, said: "At the moment anyone 'vaping' has no way of knowing what they are putting into their body.
"We accept there may be some benefits as a means to wean people off cigarettes but that does not make e-cigarettes safe.
"Nicotine is a toxin which has been linked to agitation and blood vessel disease.
"The long-term effects of inhaling it in the form of e-cigarettes is unknown.
"Therefore children should not be allowed to form the opinion that it is a safe thing to do."
She added: "It is particularly concerning that these products can appeal to a younger market with fruit, candy and alcohol flavours available.
"Schools should send a clear message to pupils and parents that the use of any kind of cigarette, electronic or otherwise is not acceptable on school premises."
'Medicines'
Katherine Devlin, president of the Electronic Cigarette Industry Trade Association, said the industry was pleased about the forthcoming ban on sales to under-18s.
It was right that schools banned pupils from using the products, she said, but added that the issue of banning parents was a little more complicated.
"The motivation for doing so has not been very well thought through," she said.
"What we need to do is focus on the thousands of lives being saved by e-cigarettes."
She added: "Any business premises, school or hospital, has the right to make policy decisions for their own premises."
According to NHS England, electronic cigarettes are to be licensed and regulated as an aid to quit smoking from 2016.
From that point they are due to be classed as "medicines", which means they will face stringent checks by the Medicines and Healthcare Products Regulatory Agency.
Until this happens, e-cigarettes are only covered by general product safety legislation, meaning they can legally be promoted and sold to children, despite a lack of clarity about their ingredients or how much nicotine they contain.
The Department for Education said: "The government plans to introduce legislation that will ban the sale of e-cigarettes to children under 18 and make it illegal for adults to buy cigarettes for them. This will help parents protect their children from the dangers of smoking.
"We have strengthened teachers' powers so they can search for and confiscate more items, including those banned by the school's rules. It is up to schools to choose whether to ban an item from their premises."