Many school head applicants 'can't spell', says NGA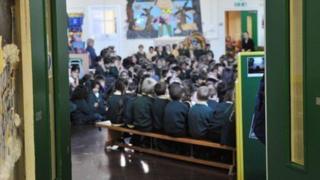 Many schools in England are finding it "very difficult" to recruit senior staff, the National Governors' Association says.
Applications for head teacher posts are sometimes littered with basic grammatical errors and spelling mistakes, according to the association.
It says the "high expectations" of schools can also deter good candidates.
The problem is particularly acute in faith and small rural schools, and those ranked "outstanding" by Ofsted.
The NGA's chief executive, Emma Knights, told the Independent newspaper that applications from experienced head teachers for top roles could be "really badly completed".
"Sometimes it's basic grammar that's wrong," she said, adding that spelling was also a problem for applicants.
Apostrophes
"You don't expect a school leader to be told to put the apostrophe in the right place, or the capital letters in the right place, or that they need to get the school name right."
Schools ranked as "outstanding" by the standards watchdog, Ofsted, were finding it especially hard to recruit suitable candidates, she said.
"With outstanding schools they may think the only way is down, whereas it is easier for them to to make their mark with those that require improvement."
She believes deputy heads might be put off applying by the stress and "high stakes nature" of the job.
"We are hearing more stories of heads who appear to have walked away after Ofsted reports or exam results and a deputy might feel 'I would rather stay where I am'".
She said Catholic schools in England were also struggling to find suitable applicants.
That was confirmed by the Catholic Education Service.
"In 2012 only 53% of headship vacancies at Catholic schools were filled at first advert," a spokeswoman for the service said.
The service says the problem is partly due to its requirement that heads should be practising members of the faith, but a further reason is that "a larger proportion of Catholic schools are already good or outstanding."
It says it is "working closely with the National College for Teaching and Leadership to ensure there is an adequate supply of Catholic leaders for the future."
A Department for Education representative said it was "vital that all schools find the right head with the skills and expertise to suit their individual circumstances".
"The growing network of teaching schools is helping to develop the next generation of great heads, as they identify teachers with potential for headship," the official added.
'Symptom'
The Association of School and College Leaders acknowledged filling top posts was a problem for some of England's best schools.
"I know that some outstanding schools are experiencing difficulty in recruiting high calibre head teachers," said the ASCL's general secretary, Brian Lightman.
"Poorly drafted applications would be a symptom of that rather than the cause of the problem.
"With the new, tougher Ofsted framework, inspectors are focusing more forensically on the quality of teaching and therefore some outstanding schools will find it a challenge to retain their outstanding grade.
"Potential head teachers of the necessary calibre, who certainly would be able to complete applications accurately, will know this."
He also believes that candidates can be put off applying to outstanding schools because they "want to make a difference".
"Many would rather take on a school rated good, where they can identify opportunities to improve achievement, rather than an outstanding school where the school is already perceived to be at the top of its game."