No more university cuts, vice-chancellors urge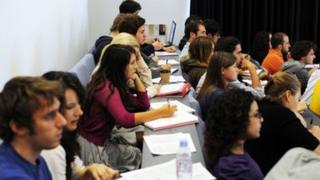 Vice-chancellors are urging ministers to make no further cuts to university teaching grants to fill an alleged black hole in government funds.
Universities UK fears miscalculations about the cost of private college expansion and grants for poorer students may lead to cuts.
It said it would be "damaging" if grants, which were all but replaced with tuition fees, were cut further.
The government said it was still working out its budget.
And the Department for Business, Innovation and Skills would not be drawn on the potential for cuts in any area of the higher education budget.
But internal documents leaked last autumn suggested Universities Secretary David Willetts is intending to cut £350m in grants to England's poorest students and potentially £215m from science funding.
Direct contribution
The publication of the annual grant letter that sets out what England's universities have to spend in the coming year has been delayed by up to a month. It is usually published before Christmas or in very early January.
And so the university funding body - the Higher Education Funding Council - has been unable to pass on funding details or student number allocations to universities. These are the crucial details that allow universities to plan for the coming year.
In an appeal to government, UUK chairman Prof Sir Christopher Snowden said: "Just as other countries are increasing their direct contribution to funding universities, the coalition government is thinking about doing the opposite.
"The government has already withdrawn the majority of direct public funding to support the costs of teaching in England - although they do make a large investment in supporting the fee loans to UK and European students that have replaced this direct expenditure.
"The small amount that remains now appears to be under threat. If that happens, graduates will have to shoulder all the costs of teaching, and the state will have virtually no direct investment in university teaching."
His comments come as some individual universities have come out publicly against the budget cuts.
A Department for Business, Innovation and Skills spokesman said: "The department is going through the process of allocating budgets for 2014-15 and 2015-16 and will set out plans in the usual way."