Agency childminders would have Ofsted opt-out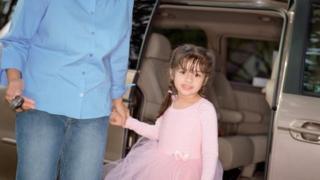 Childminders who register with the government's flagship new agencies in England would not have to undergo Ofsted inspections, it is proposed.
Ministers see childminder agencies as a way of cutting childcare costs and increasing parental choice.
Agencies would be inspected by Ofsted, but childminders would be monitored by the agencies employing them.
The Pacey childcare group wants all childminders to be subject to the same degree of regulation.
The Department for Education wants the agencies to support childminders with training and business advice while providing parents with easier access to high-quality childcare.
Reassured
There will be no obligation for childminders to join agencies, due to be rolled out from September, or for parents to use them.
The department envisages that agencies will cut costs and administrative burdens for childminders by matching them with parents and saving them from having to spend time and resources trying to fill their places.
It argues that agencies will be registered and inspected by Ofsted, so parents will be reassured about their quality.
The consultation on the plans says: "Once childminder agencies come into being, individual childminders will have the choice of registering with an agency or with Ofsted.
"Those who register with an agency will get support and development from their agency, who will quality-assure their work and provide training and guidance."
This means they can opt out of Ofsted registration, and therefore inspections, if they wish.
But the Professional Association for Childcare and Early Years, which represents childminders, believes individual inspections are the most effective way to assess their quality.
Chief executive Liz Bayram says: "The individual registration and inspection of childminders by Ofsted is proven to help increase the quality of childcare and provide the reassurance that parents need when choosing a childcare place for their child.
"Like nurseries and pre-schools, childminders are currently inspected by Ofsted against national minimum standards set out in the Early Years Foundation Stage.
"Our childminder members have told us they are concerned that childminder agencies will change this level playing field, putting their future sustainability at risk.
"It is good they have now recognised the importance parents place on Ofsted's independent and impartial judgement of the quality of care provided by a setting."
'Voluntary'
Ofsted inspections do not just pick up on the quality of care and early education being provided, but focus on health and safety in the childminder's home.
A department spokesperson emphasised that all agencies would be inspected by Ofsted and held to account on how well they monitor the quality of care and education that their childminders provide.
"Childminder agencies will also be responsible for quality-assuring all the childminders they take on and all inspections will involve a visit to a sample of the agency's childminders.
"We have always been clear that joining an agency will be voluntary and that childminders will still be able to register independently with Ofsted if they wish."
The government is working with 20 organisations in a trial of the agency approach. It says this will tell it more about how agencies might work and which models might be established.