School league tables: Many ways to measure schools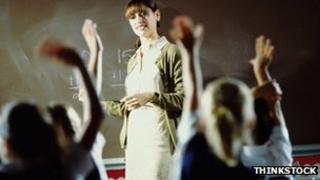 The school league tables have been a part of life in England for more than 20 years now.
Parents study them carefully, often for years before their children start or change schools.
Governing bodies, heads and teachers are often apprehensive about them, knowing that minor changes to the group taking the exams or their performance can result in jumps up or down the tables.
The teaching unions are strongly opposed to them.
They say they lead to a narrowing of the curriculum because teachers "teach to the test" to try to help students - and their schools - to get the best marks possible.
They say the tables heap pressure on everyone.
Mary Bousted, the general secretary of the Association of Teachers and Lecturers, said: "Pupils need a broad range of knowledge - for life, for work, and for future study - and league tables threaten this".
'Improve performance'
The tables have come and gone in Wales - where teaching unions also opposed them - but have now come back, in a softened form called banding.
In England, they have been refined and expanded and now include about 400 variables, including data on schools' finances and staffing.
Under Labour, the government released performance data on schools annually but left it up to media organisations to rank them.
But now parents and others can compare and rank schools in their area or across the country on a range of criteria on the Department for Education's website.
The government says parents should have access to as much information as possible and that a rigorous accountability system will raise standards.
The head teachers' union, the Association of School and College Leaders (ASCL), accepts "transparency of information is important", but warns we are "now at risk of information overload".
"There are so many ways to measure schools," one head teacher of a top-performing school told me recently, with an an air of resignation.
'Dysfunctional effect'
Academics such as Professors Simon Burgess at Bristol University and Robert Coe at Durham University say there is evidence to suggest that accountability and league tables can improve performance.
Prof Burgess says his research showed that the abolition of the tables in Wales resulted in a "significant deterioration in GCSE performance".
Prof Coe said: "If you look at the global picture, you see pretty much universally that a lot of incentives drive particular types of behaviour."
But there was also "quite a lot of evidence" that league tables might have a "dysfunctional effect", he said.
"The things that people do that reduce or eliminate benefits, for example gaming or cheating or the grey area in between."
What do they show?
The proportion of children getting the five GCSE passes at A* to C including maths and English that the government sets as a benchmark for schools (that is the key league table measure) has been rising steadily for some years, so some will say the tables have driven behaviour and improvement.
However, about 40% of children in England still do not get those grades, so most agree there is more work to be done.
More recently, the introduction of the English Baccalaureate (EBacc) as a league table measure in late 2010 has led to a shift in the GCSE subjects children are choosing and being steered towards.
The EBacc is not a subject in itself or a single exam. It is a measure of pupils achieving A* to C grades in a range of subjects the government says is the core of a good education - English, maths, two science subjects, a language and either history or geography.
This year's tables suggest 23% of state school pupils achieved that - compared with 16% last year.
The number of schools where no pupils "took" the EBacc fell from 187 in 2010 to 37 last year, while the number of schools where more than 50% of students took it rose from 325 to 735.
However, some students are struggling with some of these GCSEs, because the proportion of schools where more than 50% of pupils achieved the EBacc has not risen at the same rate.
New measures
The new elements of this year's tables - the "best eight" measure at GCSE (where a school's average grade per pupil is given) and the splitting of the tables for 16 to 18-year-olds into vocational and academic - are getting a mixed reaction so far.
The idea of the split is so that people can have a clearer view of what is being taught in different sixth forms and colleges, but some are warning it will further damage attempts to raise the standing of vocational learning.
The "best eight" has supporters, who see it as a fairer, broader measure than the one it will replace - the target of pupils getting five GCSEs at grades of between A* to C including maths and English.
Benefits
This year it is in the tables for information only but it will come in to use as a key benchmark for schools in 2017.
Then it will be in a more developed form that will take into account the progress made by pupils, something heads think will give a fairer representation of what a school is doing.
Whatever the future shape of the tables, Prof Coe believes they are here to stay.
"Politically, they are not going to go away," he said.
"No political party is going to get rid of league tables. The question is how you can remove dysfunctional behaviour and allow the benefits to come through."