Truancy down when teens eat with parents, says OECD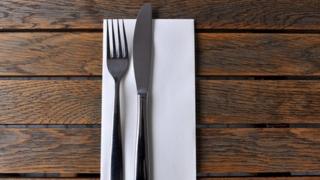 Young people who regularly eat their main meal with their parents are much less likely to be truants, says an analysis from the OECD.
The study warns of the serious impact on test results of missing lessons.
But it shows that a positive engagement with school or family can be a bigger factor than being rich or poor in whether children miss lessons.
Across developed countries, 18% of teenagers played truant - with Latvia the highest and Japan the lowest.
The UK, which has seen a recent dispute over families taking term-time holidays, is above average for missing whole days of school and below average for playing truant from individual lessons.
The international comparison shows truancy is worse in the UK than high performing education systems such as in South Korea and Shanghai.
The data on truancy was gathered alongside the international Pisa tests taken by 15-year-olds - and it shows the negative consequences of missing lessons.
Pupils who missed lessons were strongly linked to poorer grades in school, based on how they performed in maths tests.
Global differences
But the international figures also show that there is no clear difference between rich and poor pupils when it comes to the likelihood of playing truant.
In a number of countries, including Germany, Switzerland and the Netherlands, richer pupils were more likely to miss lessons.
The study points to other factors influencing behaviour such as the interest and involvement of parents and taking part in family life.
In more than three-quarters of countries where data was available, the study found that children who had meals with their parents were less likely to be truants.
Good school discipline and teachers who listen to pupils were also identified as factors likely to result in lower truancy levels.
The analysis reveals wide differences in national patterns of absenteeism, based on the proportion of pupils who had played truant in the fortnight before taking the Pisa tests.
On average, 18% had missed a lesson and 15% a whole school day. But countries such as Latvia, Greece, Turkey, Romania and Argentina had more than twice the average levels.
The lowest amount of truancy was recorded in Asian countries and regions, including Japan, South Korea, Vietnam and the Chinese cities of Shanghai and Hong Kong.
Within Europe, Luxembourg had the lowest level of missing lessons.
The study says the overall performance of national school systems can be undermined by poor attendance.
And it shows that the success of Asian school systems is reinforced by low levels of truancy.
In the UK last week, there were reports of a family facing fines of £1,000 for taking children out of school on a term-time holiday.
England's Education Minister Elizabeth Truss said the OECD study shows "we are right to crack down on pupil absence from school".
"We already know that children who attend school regularly are nearly four times more likely to achieve five good GCSEs than those who are regularly absent.
"Getting good maths grades helps young people get good jobs, means they earn more and provides the best protection against unemployment. This is why it is vital children attend as much school as possible."