Foreign student courses 'not up to scratch'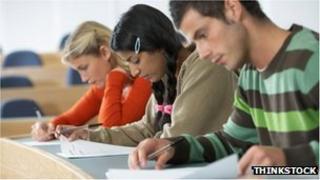 Two-thirds of awarding bodies offering postgraduate-level courses, mainly for foreign students, do not meet required standards, exams regulator Ofqual says.
A review of the so-called Tier 4 qualifications, which enable people to come to the UK on student visas, revealed some "serious concerns".
Ofqual has told two awarding bodies it is withdrawing their recognition.
The review was not about immigration matters, but making sure qualifications were of an adequate standard, it said.
Content and assessments in qualifications offered by two-thirds of the 13 awarding bodies sampled by Ofqual were found to be inadequate.
Issues were also raised over the quality of students' work shown by the course providers.
'Serious concerns'
Director of regulatory operations at England's exams regulator Jane Farleigh said the investigation was prompted by complaints about postgraduate level Tier 4 courses - known as level 6 and 7 qualifications. Some 29 awarding bodies offer qualifications of this sort at this level.
"The review is not about the legality of students' entry in the UK. Our role is to make sure that the awarding organisations offering qualifications used in this sector are meeting the standards we require of them.
"We sampled a range of the awarding organisations, and found some serious concerns."
As a result, Ofqual has withdrawn recognition from the London Centre of Marketing (LCM) and published a notice of intention to withdraw recognition from Accrediting and Assessment Bureau for Post-Secondary Schools Limited (AABPS).
She added: "We are now going on to review the remainder of the awarding organisations offering these qualifications and will take action if we find cases where things are not up to standard.
"It is important that students are treated fairly and have access to high quality qualifications. Where this is not the case and students are being let down by qualifications that are not up to scratch we will take action."
She added that anyone taking an AABPS or LCM qualification who has concerns over their studies should to talk to their college.
"We have asked schools and colleges to be ready to give advice and guidance to them on their options," Ms Farleigh added.
AABPS said in a statement that it was making representations to Ofqual about its intention to remove its accreditation.