School league tables in England to be changed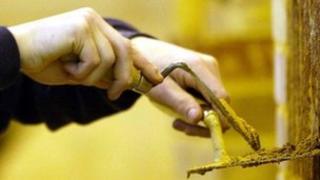 England's secondary school league tables are to be split for the first time to separate A-levels from vocational qualifications.
The change will end confusion for parents over what the tables show and help them to choose the right place for their child, the government says.
In the past, rankings combined how a school or college performed in both academic and vocational qualifications.
A head teachers' union has given a guarded welcome to the alteration.
But vocational qualifications must still receive "parity of esteem" and should not be seen as less valuable, said Malcolm Trobe, deputy general secretary of the Association of School and College Leaders.
Parenting website Netmums also welcomed the change, saying more parents were becoming interested in ensuring their children followed a vocational path.
The latest league tables for England will be published on Thursday, from data put out by the government.
Scotland and Northern Ireland do not have league tables but Wales has a system of putting secondary schools into "bands" to show relative performance. This data was released in December.
'Lumped together'
Under the changes, school or colleges will be given three separate grades for their pupils' average performance in:
A-levels
Academic qualifications, which includes A-levels and others such as the International Baccalaureate
Vocational qualifications
They will show the best and worst performers in each discipline and this will raise standards, ministers have said.
A spokesman for the Department for Education said different courses suited different young people but the old approach "lumped them together and gave the misleading impression that they are intrinsically the same".
"This was confusing for parents and young people alike," he said.
"Additionally, by reporting all qualifications in the same column, some schools and colleges have been able to hide behind good performance in, say, academic courses, while being weak in vocational qualifications.
"But there was no way for parents and young people to be able to differentiate, and to make clear, informed choices."
'Simpler system'
Speaking for head teachers, Mr Trobe said there was "logic" in splitting the qualifications because they were different and a fair measure could not be obtained if they were combined.
But he added: "The difficulty is getting parity of esteem for vocational qualifications. The academic qualifications always become the biggest headlines, when for many youngsters vocational routes are the most appropriate.
"We would like the general public to see vocational qualifications as high quality, leading to employment. The difficulty is dealing with the perception created by the media that academic is better."
Siobhan Freegard, founder of Netmums, said the two rankings would help parents choose the right school for their child.
"While some schools will score strongly on both, others will have a bias; the new system will make it simpler for parents to see which school suits their child best."