School governors 'should be more business-like'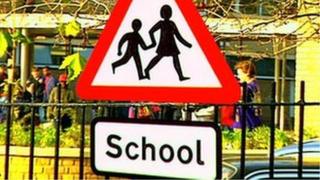 Governing bodies in England will be expected to act more like corporate boards, the Department for Education says.
The DfE wants "more professional" school governance, and says governors should have the skills and experience to "drive school improvement".
It wants to attract more high-calibre governors and encourage more employers to support staff who volunteer.
Last week a charity said there were 30,000 governor vacancies in England.
The DfE says school governors play an important role in setting the direction of a school, by supporting and challenging the head teacher, and ensuring money is well spent.
It believes it is more important to get the right people on governing bodies, rather than to fill every vacant post.
England's Schools Minister Lord Nash said the proposals would ensure governing bodies in state schools had "the people they need to drive up standards".
"The best businesses have a skilful board of directors keeping them on the right path," he said. " I want to see the same approach in schools."
Currently, there is no requirement on governing bodies of local authority-run schools to prioritise the skills of a prospective governor.
The DfE has started a three-month consultation on the proposals, to coincide with the publication of guidelines setting out the core functions of school governing bodies.
The guidelines make clear the vital role of governing bodies as "non-executive strategic leaders", and sets out their core functions clearly for the first time.
The proposals have been widely welcomed, and are "wholeheartedly supported" by the National Governors' Association.
Emma Knights, the association's chief executive, said the priority must be to ensure schools had the best governance possible.
"Being a school governor is an important responsibility akin to being a non-executive director of a trust or company," she says, and points out that many of those governing in academies are now directors and trustees.
Brian Lightman, from the Association of School and College Leaders, also warmly welcomed the proposals, but added: "The challenge is that it is not always easy to find volunteers who have the skills and time to devote to schools, particularly in deprived areas."
Chris James, professor of educational leadership and management at the University of Bath also welcomed the proposals, calling them a "big step in the right direction".
"All governing bodies will find them useful," he said
"They help to clarify the role and the responsibility and give guidance on how to improve governing body capability.
"Likening governing bodies' role to that of a board of charity trustees or company directors is very helpful."
The charity, Governors for Schools, which last week warned there were 30,000 vacancies on governing bodies in England, has also welcomed the plans.
Its chief executive, Liz McSheehy, said the announcement would help "raise awareness of the vital role governors play and encourage more volunteers to come forward."
"While filling vacancies across England's schools is of great importance, our focus is on finding the right people with the skills, experience and passion to add value," she added.
But there was a note of caution from Association of Teachers and Lecturers.
Its general secretary, Mary Bousted, said it was "clearly sensible to identify and develop the skills governors need to carry out their functions."
She added that governing bodies needed members with a balanced range of skills.
"Schools are not businesses," she said.
"While business skills are important, governing bodies also need parent representatives who are in touch with what's happening at the school and are able to offer support and challenge plans based on this experience, rather than purely on statistics."