Licensing teachers: The view from the classroom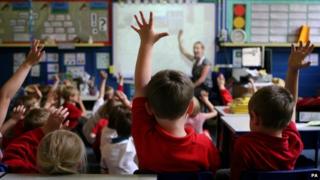 Labour wants the teaching profession to be licensed. The party says regular relicensing would improve opportunities for the best teachers and allow the worst ones to be sacked. But what do those who do the job think?
Amardeep Shergill, head of department in a Birmingham high school
I've worked with teachers delivering sub-standard lessons.
Parents are questioning why their children are getting poor teaching. They don't understand how difficult it is to effectively hold a teacher to account for their teaching to bring about an improvement. Bring in the licensing, watch the poor performing teachers suddenly raise their performance.
Any teacher who doesn't agree is probably worried about their own performance.
Frank Barratt, head teacher in Sheffield
As a committed education professional and new head teacher, I want my school to achieve the very highest standards - as do my colleagues - because it is the right thing for the children in our care, and not out of fear of losing a licence.
The current appraisal system is vigorous enough in my opinion. Believe it or not, politicians do not have the monopoly on wanting high standards for our children. I do resent the political battle between the parties to demonstrate that they are "being tough" on the profession in the pursuit of high standards. We just want to be left to get on with it frankly.
Nick Wigmore, primary school teacher in Rochdale
A licence to teach is unnecessary because teachers already have that licence. We have Qualified Teacher Status and to introduce further layers of bureaucracy, further accountability to our profession, which is already heavily held to account... is in my view completely unnecessary.
It's a huge disappointment to hear the Labour Party continue to peddle what I consider to be a myth about teachers which is that teachers are "underperforming".
Sy Roche, has taught in Buckinghamshire and London for 13 years
Teachers are already so demoralised because we are being attacked, attacked and attacked. What we wanted was somebody to say the profession is doing okay and that most teachers do a very good job.
I adore teaching, when a child gets something, that's worth more than anything. But our pay has gone down, my pension is only going to be worth £14,000 a year.
There is always a percentage of teachers who aren't very good, just as there are lawyers who aren't very good, or doctors. But just because doctors are licensed doesn't mean those licences are taken away - this is a cheap, crass idea.
Dr Eliot Attridge, taught in the UK for 16 years
I moved to New Zealand in 2012 where we have to be registered every three years. It costs about £130. If you're not licensed you can't get paid. It also means you can check online if a teacher is licensed or not.
But if it came in in the UK, the first question must be: "Who pays for the licensing?"
I'm willing to bet it would be the teacher.
Having an external agency do the assessments would make it far more expensive and, in my opinion, less effective. Licensing can work, but make it easy to implement.