Exam board wants experiments graded in science A-levels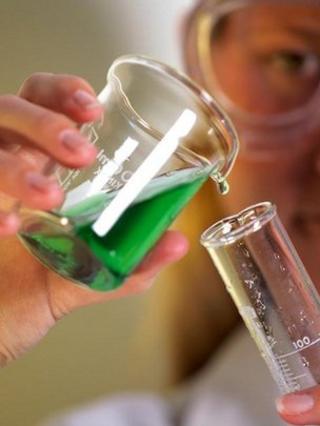 Students in England taking science A-levels should have more assessed experiments, says an exam board.
Proposed exam reforms would mean that coursework, including experiments, would not count towards A-level grades in biology, chemistry and physics.
The education standards regulator, Ofqual, says the current system encourages teachers to concentrate on a narrow range of practical skills.
But the OCR board says experiments prepare pupils for careers in science.
In its contribution to a public consultation about A-level reform, the board agrees that the current marking of A-levels is too dependent on coursework assessment.
But it argues that far from reducing assessed experiments, they should play a bigger part in the A-level courses, and that the teaching of practical skills should be a vital part of any science subject.
It claims they "embed" learning, with pupils benefiting from laboratory mistakes and successes, and so they should be assessed as part of the A-level grade.
Ofqual says that they want experiments to feature more in lessons - but not to be included in a student's final grade.
The regulator argues that concentrating on assessment makes it harder to teach the broad range of techniques science students need to develop.
The consultation process will end on 17 January, with the reforms being introduced in 2015.