Long gaps during revision 'better than cramming'
By Sean Coughlan
BBC News education correspondent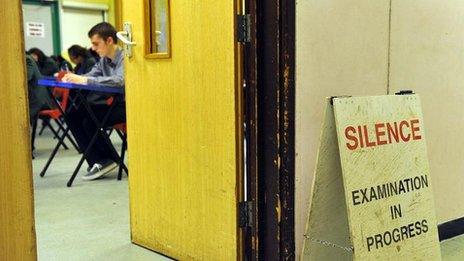 There is bad news for anyone relying on last-minute exam cramming, as psychologists publish research showing that learning is much more effective when spaced out over stretches of time.
The study from Sheffield University examined how more than 850,000 people improved skills playing an online game.
It showed leaving a day between practice sessions was a much better way of gaining skills than continuous play.
Researcher Tom Stafford says this reflects how memories are stored.
Prof Stafford, a psychologist from the University of Sheffield, was able to analyse how people around the world improved when playing the Axon computer game.
He found a clear pattern showing that people were more successful when gaps were left between sessions of playing.
Leaving a day between sessions did not weaken performance, but strengthened it, says Prof Stafford.
This is because it makes better use of how the brain stores information, he says.
Cramming for long intense stretches ahead of a test might feel like more is being learned, says Prof Stafford, but this is illusory.
A better way of revising or learning is to plan over a much longer period, with substantial breaks between study sessions.
For instance, practising a skill for two hours and then taking a day-long break before practising for another two hours was more effective than practising continuously for four hours.
Prof Stafford, who analysed the data with Michael Dewar from The New York Times Research and Development Lab, says this study of such a big sample of online game players provides a useful template for understanding other types of learning.
It suggests that the volume of learning is less important than how that time is structured.
"The study suggests that learning can be improved. You can learn more efficiently or use the same practice time to learn to a higher level," says Prof Stafford.
Related Internet Links
The BBC is not responsible for the content of external sites.