Fewer young people plan to go to local university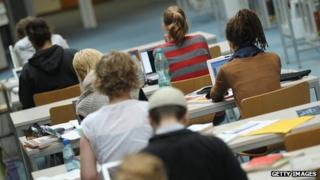 Students are increasingly likely to want to go to university outside their local area, suggests research tracking the intentions of sixth formers.
This contradicts expectations that higher fees would mean more students studying locally to save on rent.
The research, based on 17,000 prospective students across the UK, shows that fewer want to study near home than in 2011 or 2004.
Across the UK, the figure has fallen from 15% in 2004 to 7% in 2013.
The highest proportion wanting to study near home is in Scotland, where students do not pay tuition fees.
The figures, from careers guidance company Cambridge Occupational Analysts, show that in England, Wales, Scotland and Northern Ireland, a decreasing proportion of young people want a place at their local university.
Competing for students
Within England, the introduction of £9,000 tuition fees last year does not seem to have pushed more young people into preferring to study locally, with the proportion wanting to stay at home falling from 8% in 2011 to 6% in 2013.
The research suggests that students facing higher fees are looking more carefully at their university choices and are ready to travel.
There has also been more competition between universities to recruit students.
There are some regional differences. The highest proportion of students planning to stay near home is in London, with 10%, which might also reflect the availability of places.
The east midlands and the south west have the lowest levels of young people in England preferring to study near home, with 4%.
Within the UK, students in Scotland remain the most likely to plan to study locally. This number has fallen, but 31% still prefer to study near home, much higher than anywhere else.
In Northern Ireland, 10% want to go to university in their local area and in Wales, only 2%.
Joyce Lane, the career group's joint managing director, said: "Going to university is now very expensive, and looking for the right course and university can be very time-consuming.
"Dropping out is costly too in terms of time and money lost and the stress experienced. This means it is more important than ever for prospective students to look into the finer details of the courses suggested to them."
The study from Cambridge Occupational Analysts looks at the intentions of would-be students.
The Higher Education Statistics Agency has published figures showing what has happened with previous intakes, with about one in five students living at home.
In 2011-2012, about 329,000 full-time and sandwich course students were living in their parental home - a higher number but a slightly lower proportion of students than the previous year.
Figures published last week by the Ucas admissions service showed that record numbers of UK students had begun full-time undergraduate university courses this autumn.
The increase in fees had hit student recruitment, but the applications appear to have recovered with student numbers rising again.
The proportion of young people going to university is set to rise even further, with the government announcing this month that it wants to scrap the cap on student numbers.