School places shortage to receive £2.4bn extra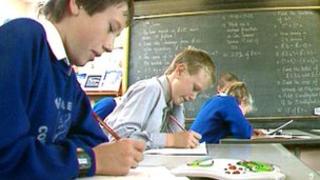 A further £2.35bn has been announced to create more school places in England, as schools struggle to keep up with pressure from a rising population.
The extra money, announced by Education Secretary Michael Gove, is in addition to £5bn already committed for places.
This will extend support for more places up to 2017.
The Local Government Association (LGA) said the funds must get "where they are needed" so that councils can continue to deliver the required places.
Mr Gove said the "over-riding priority for capital investment is to ensure every child has a place at school".
He said the government had already created an extra 260,000 places up to May 2013.
A surge in the birth rate has seen primary schools facing increasing demand for places, with particular pressures in some urban areas.
The government says the move means local authorities will know how much money they will have over the next three years and will be able to plan accordingly.
In his written ministerial statement, Mr Gove said: "We are giving local authorities longer-term allocations for new school places, which will give them more certainty in their planning."
He said: "Demographic pressures have put strain on schools in many parts of the country.
"That is why we have more than doubled funding for new places to £5bn in this Parliament. By May 2013, this investment had already helped to create an additional 260,000 school places with more still to come.
"Today I am announcing an additional £2.35bn to support local authorities to plan and create new school places that will be needed by 2017."
'Reassured'
David Simmonds, chair of the LGA's children and young people board, said: "Government has responded to the LGA's call to help provide school places, and thanks to this extra investment, mums and dads will feel reassured there will be a place for their child.
"Now we need to ensure that these funds get where they are needed so that councils can continue to deliver the required places.
"Local authorities want to provide a good education for every child in their area and this money will help them ensure places are available and plan strategically for the future."
Peter John, Labour councillor and London Councils' executive member for children's services, said: "London has the UK's highest demand for new school places, with over 118,000 new places needed by 2016, so today's funding announcement is a welcome step in the right direction.
"We are particularly pleased that the Department for Education has recognised the higher costs London boroughs are facing.
"Moving to a three-year funding cycle is also an important improvement to the funding arrangements as this will allow boroughs to plan ahead, especially as the pupil pressure moves from primary to secondary."
'Prime duties'
But Dr Mary Bousted, general secretary of the Association of Teachers and Lecturers, said: "It is pointless the government increasing local authorities' funding for school places if they are not allowed to build and run schools.
"As it is, local authorities are struggling to find free school sponsors in areas of rapidly increasing pupil populations.
"And to make matters worse, the government has made it very difficult for local authorities to plan for additional school places because they are only allowed to consult on expanding existing schools, and only the government is allowed to approve any new academies or free schools.
"As secretary of state for education, Michael Gove's prime duties are to provide sufficient school places and qualified school teachers, but he is failing to do either."