Children's centres 'need clearer role', MPs report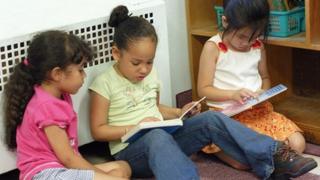 The quality of pre-school Sure Start children's centres in England needs to be taken as seriously as standards in schools, says a report from MPs.
But the Education Select Committee says there is a lack of clarity about the "core purpose" of children's centres.
The report calls for more certainty about what they should provide and closer integration with other services.
"Education is too important to wait until children reach school age," says committee chairman Graham Stuart.
The report from MPs into Sure Start centres warns that the government needs some "coherent, long-term thinking on early years and children's centres".
'Gateways'
It says at present the expectations of children's centres are "too vague and broad" and it is unclear whether they should prioritise support for parents or whether they are meant to provide early years education for children.
The report says that centres were set up as "gateways" to services for families with young children, but "in reality, there is a great variety in the services provided".
Some might provide pre-school childcare while others deliver targeted services for families with particular problems.
When there is "confusion" about what children's centres should provide, it becomes more difficult to measure the performance of individual centres, says the report.
It calls on the government to create a national framework setting out what should be expected from children's centres.
There have been warnings about closures of Sure Start centres, but the report from MPs says it remains "surprisingly difficult" to be certain about numbers.
Between 2010 and 2013, the number of children's centres in England fell from 3,631 to 3,116, but the report says it is not clear how much this was the result of mergers.
"There is no accurate picture of closures across England," says the report.
Short-term policy
"Closing children's centres should go ahead only after proper consultation and where alternative options have been considered," says the report.
There are also calls to raise the quality of staff, so that they have equal pay and status with staff in schools.
The report says Sure Start centres are popular with parents and are seen as providing useful services.
But early years education has been disrupted by "too much short-term and disparate government policy".
"The government needs to be clear what children's centres should be offering and who they are for," says Mr Stuart.
Early years teachers
A spokeswoman for the Department for Education said: "A recent survey showed that under this government, a record number of parents - more than a million - are now using children's centres.
"Councils are best placed to decide how to organise these services and we are increasing funding for early intervention to £2.5 bn to help them meet local need.
"Our reforms are also focusing on improving the quality of professionals working in the early years, and this year we have seen a 25% increase in those training to be early years teachers."
Shadow children's minister Lucy Powell said: "This report is a devastating verdict on an out-of-touch government with no strategy or vision for children and the early years."
She said the reduction in Sure Start centres meant that "families most in need are going without support in those vital early months and years".
Anne Longfield, chief executive of family charity 4Children said: "To reduce the impact of disadvantage on children and make sure every child has the best possible start in life, we must 'get serious' about the early years and commit to a long-term, ambitious vision for children's centres."
Christine Blower, leader of the National Union of Teachers, said: "Children's centres are critical resources for all local parents and particularly for first-time parents, lone parents and parents who are struggling.
"Appropriate funding commitments are needed from government to ensure these centres are sustainable and can provide the range of services needed. Quality will depend on the ability to employ and retain well qualified staff to run the services."