Grandfather, 90, gains Lancaster University PhD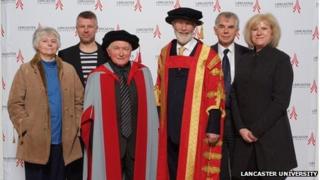 A grandfather who served in World War Two has gained a doctorate a month after after turning 90.
Retired teacher Eric Wooff celebrated his PhD from Lancaster University 74 years after he left school.
The son of a London docker, Dr Wooff had to leave school at 16 to get a job but later qualified as a maths teacher and returned to study after he retired.
"Graduating is one of the most rewarding experiences of my life", said Dr Wooff.
"In my school days, university was not an option for me," he explained.
In the 1930s he won a scholarship to grammar school, but was evacuated to Somerset at the start of the war and had to leave school at the age of 16 and get a job, despite qualifying for a place at London University.
'Encouraging'
"My father thought I should be working and contributing to the family budget. I returned to London just before the Blitz, and got an office job in the West End. We had to move when our home was severely damaged."
After serving in the RAF during the war, Eric returned to his job, moved north in 1952, and found himself, at the age of 39, with a secure well-paid job, as well as a wife and four children.
"I took stock, and asked myself if that was really how I wanted to spend my life. My lovely wife was totally supportive."
So he secured a place at college, and trained to become a maths teacher, working at Appleby Grammar School in Cumbria and in further education for more than 20 years.
"I loved teaching and it gave me immense personal satisfaction."
Dr Wooff began studying in his spare time, gaining an MA from the University of East Anglia in 2003.
In 2008, he began studies at the University of Cumbria, where staff encouraged him to study for a PhD in Education at Lancaster University.
"University brings out the best in you and raised my sights," he said.
"The whole atmosphere was very encouraging and stimulating. I loved meeting other students and staff who were immensely helpful. I enjoy being and working with young people so I got on well with other students."
He hopes to submit articles to professional journals on his favourite topic, education.
Of his four children, Louise is a retired teacher, Chris worked at the University of Liverpool, and is now retired, Clare is in management and Francis works at the University of Salford.
His wife Joan died in 1990.
"I am very fortunate. I have been blessed with good health and support by so many."