Autumn Statement: Cap on student numbers to be lifted
By Angela Harrison
Education correspondent, BBC News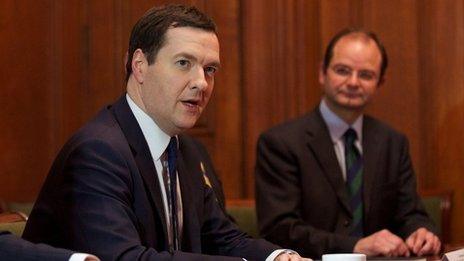 A cap on the numbers of students England's universities can admit is to be lifted in 2015, Chancellor George Osborne has said.
The change means universities will be able to expand further if they want to.
The announcement came in the chancellor's Autumn Statement in the Commons.
He said next year universities in England would be able to admit an extra 30,000 students.
The cap on numbers would be lifted a year later, he said, and the changes would be funded by the sale of more student debt to private companies.
The chancellor told MPs: "Next year we will provide 30,000 more student places - and the year after we will abolish the cap on student numbers altogether.
"Extra funding will be provided to science, technology, and engineering courses.
"The new loans will be financed by selling the old student loan book, allowing thousands more to achieve their potential."
Access to higher education was a "basic tenet of economic success in the global race", he said, adding that every year there were 60,000 young people who had achieved well at school or college but were prevented from going to university by an "arbitrary cap".
The government has already sold what is known as the old student loan book.
It recently announced the sale of the remaining 17% of mortgage-style loans taken out by students between 1990 and 1998.
This involved £890m of student loans being sold to a debt management consortium for £160m.
New student loans, linked to the higher fees up to a maximum of £9,000 a year, have not been affected.
The chancellor went on to say: "This year is also the fiftieth anniversary of the Robbins Report, which challenged the nonsense that university was only suitable for a small few.
"In 1963, Robbins said that courses of higher education should be available for all those who are qualified by ability and attainment to pursue them and who wish to do so.
"That was true then, I believe it should remain true today."
At the moment, the government funds a certain number of "core" places at universities by lending students money to cover their fees, although universities are free to accept as many top-performing applicants as they wish.
If universities exceed the number of other students they recruit, they are fined.
Nicola Dandridge, chief executive of Universities UK, said the lifting of the number cap was "good news".
"More graduates is good for the economy, developing a strong society and improving the lives of individuals," she said.
"We will need to understand how this is sustainable in the long term, given that this policy is being funded in coming years by the asset sales. We also need clearer information on future cuts to the Department for Business, Innovation and Skills budget."
The Russell Group, which represents some of the UK's most selective universities, questioned whether quality would be maintained in such an expansion.
But Prof Les Ebdon, director of the Fair Access to Higher Education watchdog, said he had been pressing for this change because it would allow more students with potential to go to university, not just those with the highest grades.
A spokesman for the Business Department later said the Treasury was providing "£5.5bn in student loan outlay" to fund the lifting of the number controls over the next five years.
A document released by the Treasury said that while the outlay on student loans would be "more than financed" by the sale of the old student debts, there would be an "extra implied subsidy in the medium term" of around £700m a year.
Other education announcements in the Autumn Statement included:
The funding of an additional 20,000 apprenticeships over the next two years
Confirmation that all pupils at state schools in England in Reception, Year 1 and Year 2 are to get free school lunches from next September, at an estimated cost of £600m a year
A new physics centre to be built at Edinburgh University, to be named after Prof Peter Higgs, the Nobel Prize-winning scientist
In a pilot scheme, jobseekers in some areas aged 18 to 21 without basic maths or English will be required to have training in these skills or will lose benefits
An extra £185m for Stem subject teaching at university level in England, spread over four years.
Related Internet Links
The BBC is not responsible for the content of external sites.