Enterprising primary pupils open their own shop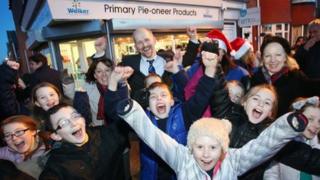 Primary pupils in inner city Newcastle have taken over a corner shop, selling goods they have designed, made and marketed themselves.
Children at four primary schools in the city's east end are taking it in turns to staff the tills every weekday morning and all day at weekends.
In the run-up to Christmas they are selling Christmas cards, decorations and gifts - but have far bigger plans.
"We have very high hopes of this shop," said head teacher Debi Bailey.
The idea is to catch the children's imagination, boost their understanding of running a business and feed into the curriculum by making and selling seasonal goods.
The current stock includes craft staples like batik cushions, stained glass tea lights, photo frames and calendars.
"The ideas just keep growing and growing", added Ms Bailey, head of Walkergate primary.
The shop, a former hairdresser's, will close at the end of term to make way for a santa's grotto staffed by older children and volunteers.
Springboard
It will re-open in January with a spring theme, selling plants, bulbs, gardening equipment, pots and planters as well as school stationery and uniform.
Later there will be vegetables from Walkergate's allotment.
Ultimately the plan is to involve pupils from a local secondary school but for now nine- and ten-year olds from year five are running the shop, selling goods made by six- and seven-year olds in year two.
School governors and staff set up the project, Primary Inspiration through Enterprise, with help from local businesses.
Ms Bailey says the idea came about after businesses said young people were leaving school in this area of high unemployment without being "work ready".
"They have the qualifications but lack an understanding of enterprise and the social skills needed for work," said Ms Bailey.
Taking stock
The idea of the shop is to instil that understanding in primary pupils "as by secondary school it's too late".
For example, pupils do a stock take at the end of each day, to work out which items are selling best and which they need to reduce in price.
The schools also want parents to become involved to boost their "employability and confidence".
They have already started a community choir and have plans for a street cafe, an advice centre and links to local colleges.
"This could be a fantastic way of breaking the cycle of unemployment and deprivation", said Ms Bailey.