Universities accused of being 'as exclusive as ever'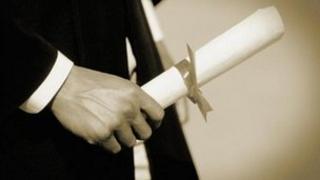 Top universities in the UK are as "exclusive as ever" and do not try hard enough to attract students from less advantaged backgrounds, an expert says.
Bahram Bekhradnia, director of the Higher Education Policy Institute (Hepi), says too many poorer students end up at "less prestigious" places.
The Russell Group of 24 research-based universities says it disputes this.
The Department for Business, Innovation and Skills said the government had been "very clear" about widening access.
Institutions that want to charge higher tuition fees of up to £9,000 must have an access agreement approved by the Office of Fair Access. These agreements set out how institutions will improve access and student success, including retention, attainment and employability.
Giving Hepi's annual lecture, Mr Bekhradnia said top institutions should follow the lead of their counterparts in the United States and be clear that they want their student populations to represent wider society.
He said research showed the proportion of poor students attending the most selective and prestigious universities in the country - such as Oxford and Cambridge - had not changed in 15 years, and might even have fallen.
Unlike many other countries, the UK had a "highly stratified - even hierarchical - university system", he said.
"The university you attended makes a difference to your life chances."
Institutions at the top are highly academically selective in the students they take, and performance in school is closely linked to background.
"Posh students go to posh universities because they do better at school and less posh students to less posh universities because they do less well at school," Mr Bekhradnia said.
"The hierarchy and its causes are well-known to students when making their choice of university."
'Need to do better'
The Hepi director suggested Russell Group and 1994 Group universities, which he described as "the most research-intensive and prestigious", were "as socially exclusive as ever".
"I don't think that there is snobbery or explicit bias, but nor do I think that they try hard enough.
"In the USA the top universities explicitly engage in social engineering and are clear that they seek to represent wider society as far as possible in their student population, while maintaining high academic standards."
In the UK, universities avoided anything that could be seen as "social engineering", Mr Bekhradnia said.
"They need to do better. Their gesture in favour of increasing fair access is that they are beginning to look at what they call 'contextual' information about why students from poor backgrounds may have performed less well at school than others.
"That is a start, but they need to go further and be explicit that they aim to have a better social mix in their universities."
Outreach programmes
Dr Wendy Piatt, director general of the Russell Group of universities, said the group disputed some of Bahram Bekhradnia's analysis and conclusions.
She said: "The proportion of students from state schools has actually increased at Russell Group universities since 1997.
"We do not agree that the US is a model example. Both leading public and elite private universities in the US are actually less representative than ours, and the gap between professional and working-class children at US elite universities is twice that in the UK.
"Our universities want to give places to students with the qualifications, potential and determination to succeed, irrespective of their background. That's why we are pumping millions more into outreach programmes.
"However, the root causes of under-representation, as Mr Bekhradnia acknowledges, are that too few students from disadvantaged backgrounds are achieving good enough grades in the right subjects."
A BIS spokesman said: "The government has been very clear about the importance of widening participation and improving fair access in higher education. All those with the ability should be able to study at university.
"Universities and colleges already plan to spend more than £700m by 2017-18 on measures to widen participation through their access agreements, up from around £440m in 2011-12."