Universities advised on managing radical speakers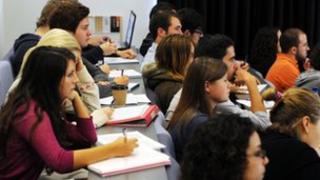 More universities in the UK could consider checking in advance speeches to be made by some controversial visiting speakers, new guidance suggests.
The umbrella group Universities UK is publishing new guidance setting out possible checks on events.
It follows claims that extremists are using universities to radicalise young people.
The allegations have been denied by the sector.
Universities UK (UUK) says most speakers are uncontroversial but some will express "inflammatory views".
Segregation
Universities need to balance their obligation to encourage free speech with their duty to ensure that the law is not broken, it says.
In 2010, Prime Minister David Cameron told MPs that Britain needed to do more to "deradicalise our universities".
The new guidance is aimed at helping universities to "review their existing approach to managing external speakers", UUK says, adding that a number of suggestions would only apply "to events or speakers deemed to be higher-risk".
It suggests that where there are concerns about a speaker saying something that might break the law or lead to public disorder, universities could ask for a copy or summary of a speech in advance and have university officials present to take any action necessary.
Other options might be to make an event ticket-only or open it up to the public, UUK says.
Some universities already check some speeches in advance, it says.
A particular issue highlighted by the report is that of requests from speakers or organisers of events for men and women to be segregated during events.
At a news conference on Thursday, university leaders said this was a "big issue" facing universities.
Nicola Dandridge, UUK chief executive, said: "What emerged from our work on this particular issue is that there is no clearly defined right or wrong here as to whether to allow or outlaw segregation. It is going to very much depend on the facts of the case."
'Inflammatory'
A group which campaigns against extremism on campus said this year that segregation at talks given by people it described as radical Islamists had become widespread.
Ms Dandridge said the guidance had been produced so that as many talks as possible could take place in universities "safely and within the law".
"External speakers play an important role in university life, not least in terms of encouraging students to think for themselves, challenge other people's views and develop their own opinions.
"Although most speakers are uncontroversial, some will express contentious, even inflammatory or offensive views. Universities have to balance their obligation to encourage free speech with their duties to ensure that the law is observed, the safety and security of staff, students and visitors secured, and good campus relations promoted. In practice, achieving this balance is not always easy.
"The easy route would be to ban and boycott discussions on controversial subjects. But universities have a vital role to play in securing free speech and promoting debate."
Update 29 November 2013: This story was originally published on 22 November. The datestamp was changed when a minor amendment was made to the text.