Paris beats London to best student city title again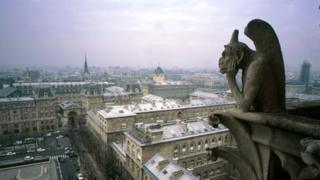 Paris has beaten London to the title of best city for students, for the second year, according to the latest ranking.
London missed the top slot by only two points, according to the latest QS Best Student Cities list.
Manchester and Edinburgh also made the top 50, with Manchester 29th and Edinburgh 32nd.
"It's no wonder London attracts such a high calibre of students from across the globe," said the London Mayor, Boris Johnson.
"London has more first-class higher education institutions than any other city," he said.
'Unrivalled nightlife'
He said students benefited from the capital's "abundant green spaces and unrivalled nightlife", its "ever-safer" streets and ongoing investment in transport and infrastructure.
But QS said Paris had beaten London for the second year running, partly because studying there was so much cheaper.
Ben Sowter, head of research at QS, said: "Low tuition fees continue to make France a very attractive study destination for domestic and international students.
"However, it was the performance of Paris's institutions in the QS rankings, the employability of its graduates and high quality of living scores that made the capital city, once again, the world's best student city."
To be considered for the ranking, cities must have a population of more than 250,000 and at least two universities in the QS World University rankings.
Some 98 cities in the world qualify on this basis.
The top 50 are decided on five key categories
the number and position of institutions in the world university rankings
the quality of student living
the views of employers on the quality of the city's graduates
affordability, including tuition fees and cost of living measures based on the prices of consumer electronics and fast food
a measure of the student mix, which includes the proportion of international students
"London, Manchester and Edinburgh all scored over 90 points for student mix, which highlights the UK's continued popularity as a study destination among international students," said Mr Sowter.
He said London had scored the maximum 100 points for the ranking criterion, "making it the city with the most highly ranked universities in the world".
University College London, Imperial and King's College London were all in the top 20 of this year's QS World University rankings.
Studying in Paris however is not only more affordable than in London, Paris also has "the sort of student-dominated core that one would expect to find in a smaller university town", according to QS, while graduates from Parisian universities are "priority targets" for employers across Europe.
The US had the most cities in this year's top 50 with seven cities listed, Australia followed with six. The UK and Canada came joint third with three each.