Social workers under 'phenomenal pressure'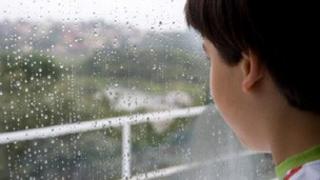 Child protection services in England are under more pressure than ever, the Association of Directors of Children's Services is warning.
The ADCS says tight budgets, increasing demands and heightened media scrutiny put "phenomenal pressure" on staff.
It comes as a survey of front-line social workers suggests the level of need required to get support has risen.
The government said social workers were responding to "major challenges" with "skill, passion and sheer hard work".
Ever since the death of Peter Connolly in north London in August 2007, there has been increasing demand on child protection officials. Baby P, as Peter became known, died with more than 50 injuries, despite being on a social services "at-risk" register.
The number of looked-after children under the care and supervision of local authorities in England is now higher than at any point in almost 30 years.
Thresholds for care
Now a survey of 600 child protection professionals by Community Care suggests 80% believe thresholds have increased over the past year due to council budget cuts and rising numbers of referrals.
Some 78% of those polled said the threshold needed to get help for a child suffering from neglect has increased and nearly a third say thresholds for both physical and sexual abuse have risen as well.
Other findings suggest:
77% said the increased thresholds were due to increased referrals
71% blamed local authority budget cuts, especially to administrative staff
73% said they did not feel they had enough support and resources to prevent a child-at-risk in their area from coming to serious harm.
One respondent told the survey: "We were told if you have a teenager on your case who is 14 to 16 years old then they cannot have child protection plans anymore because they are either deemed 'capable of voting with their feet' or 'able to self-protect'."
Another said: "A child disclosed he'd been hit by his father; there were significant injuries to substantiate. The child then confirmed regular abuse - the first time social care became aware of it.
"A decision was made by higher management to allow the child to stay home, therefore reducing child protection numbers."
But the Department for Education (DfE) said the "self-selecting survey presents a picture which is simply not true".
Ofsted's annual social care report, published last month, showed a 68% rise in the number of children on child protection plans in the four years to 2012, a spokesman said.
"We will continue to focus on overhauling child protection, cutting red tape and improving the skills and experience of social workers so they can make the right decisions for children.
"The vast majority of councils are protecting child protection budgets more than other services."
Complex needs
Andrew Webb, president of the ADCS, said: "Budget cuts of over £2.7bn to local government has put a phenomenal amount of pressure on everyone working in local government, but as directors of children's services, we need to ensure that our social workers have the professional confidence and decision-making skills to ensure every child receives the services they need to protect them from harm regardless of their age.
"As recent high-profile cases have reminded us, children in the 14-16 age group are just as vulnerable to abuse and exploitation as younger children, and proactive work must be undertaken to protect them from coming to harm."
David Simmonds, chairman of the Local Government Association's children and young people board, said: "Councils are redoubling their efforts to get the right people to ensure that the most vulnerable in our communities are kept safe from harm and to help in developing and supporting newly qualified social workers.
"Councils have a key role to play in looking after children but it is not a job which we can do alone and other local services, such as health services and schools also play an important role in supporting vulnerable children and their families".
Bridget Robb, chief executive of the British Association of Social Workers, said: "The reduction in early intervention services, even their decommissioning by some local authorities, means that more children are being assessed by social care as children in need or due to safeguarding reasons.
"They often then present with very complex needs. This is putting extra pressure on social workers who in many cases are having to cope with budgetary cuts in their own councils."