Careers advice 'appalling', says college leader
By Sean Coughlan
BBC News education correspondent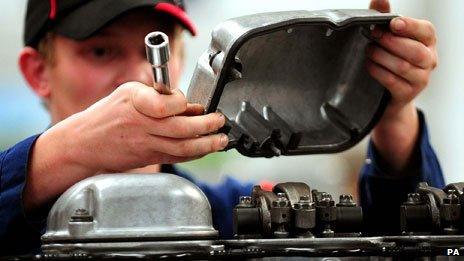 The quality of careers guidance available in schools in England is "nothing less than appalling", says the president of the body representing further education colleges.
Michele Sutton, president of the Association of Colleges, says there needs to be more impartial advice.
There have been repeated warnings about weaknesses in careers advice, including from the Education Select Committee.
But the college chief says the government should "get a move on".
"The longer this disgraceful situation exists, the longer-term effect there is on students."
Ms Sutton is calling for more funding for the National Careers Service to improve guidance for young people.
The Association of Colleges' president highlighted particular concerns that schools do not always provide impartial advice - and that young people are steered towards staying in school sixth forms, rather than considering vocational options.
"Too many young people, usually those who need advice the most, miss out," said Ms Sutton.
"They end up in the wrong institution, usually school sixth forms, doing the wrong course, and recently published Education Funding Agency data shows that schools lose 50% of their pupils between year 11 and year 13. How many end up not in education, employment and training?"
There have been successive warnings about failings in careers advice, with concerns that young people were not receiving the information they needed to enter the jobs market.
There were also concerns that social mobility was impeded by a lack of good advice about job opportunities.
An Ofsted report in September warned that three-quarters of schools visited by inspectors were not delivering adequate careers advice.
Responsibility for careers guidance has been devolved to individual schools, but the Ofsted report suggested that "very few" schools had the skills to deliver this.
Earlier in the year, there were complaints from employers, with the CBI saying that careers advice is on "life support" in many schools, with teenagers having little knowledge of the workplace.
At the beginning of the year, the education committee reported there had been a "worrying deterioration" in careers services.
It also highlighted the need for teenagers to have face-to-face advice, rather than relying on websites or phone lines.
"Too many young people are having to make vitally important decisions about their futures without access to reliable and accessible careers information and guidance," said Nick Chambers, director of the Education and Employers Taskforce.
"The role of the National Careers Service needs to be expanded to guarantee that all young people have access to independent impartial careers advice."
Related Internet Links
The BBC is not responsible for the content of external sites.