Care leavers get 'raw deal', says MPs' report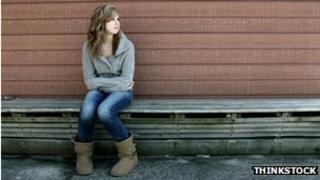 Young people leaving care are given a "raw deal", according to research for an all party group of MPs.
Many care leavers miss out because they do not know what support they are entitled to, says the report.
Some 500 children and young people and a further 500 care professionals were interviewed by researchers from the charity Who Cares? Trust.
"We have heard very troubling stories," said Natasha Finlayson, the charity's chief executive.
"In too many cases young people are being kept in the dark, completely unaware of the support they should be getting automatically.
'Tough starts'
"Children in care and care leavers have had tough starts in life and are trying to find their way in the world without the support of their families.
"This is why this support is a legal requirement. It is absolutely crucial that they all get the support they have a right to without exception.
"As this report makes clear, this is not happening", said Ms Finlayson.
The report, for the All Party Parliamentary Group for Looked After Children and Care Leavers, found more than seven in 10 said they had had insufficient information about the support they should receive from their local authority.
A third did not know their local authority was obliged to help them with the costs of being in education or training at least up to the age of 21.
Over half were unaware of a £1,200 bursary to help them stay in education after the age of 16 or that their local authority must help them with accommodation during university holidays.
Care leavers without this information were likely to be put off staying in education, said the authors.
The inquiry also found that fewer than half of care leavers knew they were entitled to help with the costs of getting and keeping a job.
'Essential items'
Only a third receive an allowance of £2,000 to help them set up home when they leave care and buy essential items such as fridges, cookers and furniture, says the report.
Some young people told the researchers they thought their local councils were deliberately withholding information from them in order to save money.
"We are concerned that financial considerations appear in some cases to be prioritised above the best interests of the child," says the report.
"Not enough children in care are being told about their legal entitlements, and the support they do receive is not consistent enough," said Craig Whittaker MP, chairman of the parliamentary group.
Mr Whitaker added that professionals who worked with looked after children were also often under-informed when it came to knowing how best to support care leavers.
The inquiry sets out 10 recommendations to help young people leaving care or about to leave care access the support they are due.
These include managing social workers' caseloads so that they have enough time to explain the help available to individual care leavers and better training for professionals to ensure they have up-to-date knowledge on care leavers' rights.
David Simmonds, chairman of the Local Government Association's children and young people board, said councils were committed to supporting young people "more effectively" as they moved from care into adulthood.
"Children come into care in the most difficult circumstances and giving them the best opportunities to overcome these and get a good start in life is a major focus for councils.
"The enquiry highlights that pressure on resources and a confusing jumble of national employment schemes make the transition to adulthood more challenging than it should be."