Schools in England can take their own global Pisa tests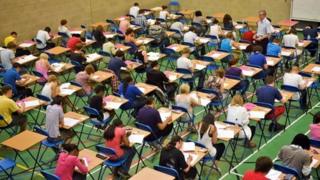 Individual secondary schools in England will be able to take influential international tests to see how they compare with the highest performing schools in Asia and Europe.
OECD Pisa tests are used to measure and compare the educational standards of developed countries around the world.
But from next year individual schools will be able to test their 15-year-old pupils in reading, maths and science.
It will allow schools to see how their pupils rank against global standards.
Education Minister Liz Truss said it was an "excellent opportunity for schools to compare themselves against the world's best education systems".
Essex County Council said it is encouraging its schools to take part.
Next month will see the publication of the Organisation for Economic Co-operation and Development's (OECD) international league tables, based on Programme for International Student Assessment (Pisa) tests.
Global league tables
These performance tables, which have become important international benchmarks, are published every three years, based on tests taken by a sample of schools in each country.
The OECD says that such school standards are an important indicator for future economic performance.
Asian countries have dominated the top places in recent test results, with Scandinavian countries among the high flyers in Europe.
The UK has been a middle ranking performer, but within this national figure there will be a wide range of differences in ability, depending on region and type of school.
It has raised questions such as how cities such as London might compare with New York or Paris, if there was data beyond the national level.
The OECD is now going to allow individual schools in England to take the tests, so that they can see whether they are as good as pupils in Shanghai, Hong Kong or Finland, or whether they are falling behind the global competition.
Making the test available will "enable individual schools in England for the first time to see where they stand internationally", says the OECD's education chief, Andreas Schleicher.
"This will help teachers and school leaders understand where to focus their efforts to raise standards and learn from successful school systems in other countries."
Schools will be given an overall test score, rather than a breakdown of individual pupils. And the school scores, from tests that take about two and a half hours, will not be published by the OECD. The test papers will be marked externally.
Earlier this year this type of individual school testing was announced for the United States.
Education Minister Elizabeth Truss said: "It is down to secondary schools themselves to decide whether they want to take part in these tests run by a highly respected, independent organisation.
"We see this is an excellent opportunity for schools to compare themselves against the world's best education systems - and potentially against other schools from around the world."
Ray Gooding, Essex County Council's cabinet member for education, said: "I will actively be encouraging Essex schools to take part to benefit from the ability to assess performance, share best practice and improve learning across the county."