Show there is no trainee teacher shortage, government urged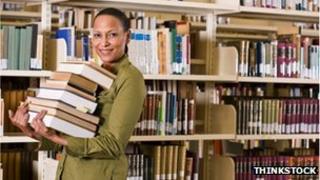 Lack of detail in official figures for training teachers in England next year may hide possible shortages, claims a university expert.
Figures published last Friday lack crucial details, says James Noble-Rogers of the Universities Council for the Education of Teachers (UCET).
Mr Rogers says he fears such details may reveal key shortages of trainees.
The government said it planned to publish a detailed breakdown of the figures "in the next few weeks".
Mr Rogers has issued a freedom of information request to the government for the data.
Legislation
He says Friday's figures failed to give details of how the government has allocated numbers by subject or of how many trainee places have been allocated for secondary or primary education.
"This information has been published as a matter of course in the past", he writes in a letter to the schools minister, David Laws.
"It should not be necessary in an open democracy for UCET or anyone else to resort to legislation to obtain information of this kind."
Last week's figures revealed how many teachers the government plans to train next year.
They also showed a further switch in funding for teacher training from universities to the School Direct scheme which allows teachers to learn largely on the job in schools, but with theoretical and specialist training provided by universities.
The figures showed that 41,100 teachers would be trained in the year starting September 2014, rising from 38,900 this year.
Of these the numbers trained by Schools Direct will rise from 9,600 in the current academic year to 15,400 in 2014.
The numbers trained on postgraduate university courses will fall from 20,000 this year to 16,200 next year.
Overall, Mr Rogers says this represents a rise in the numbers trained by School Direct from 25% to 37%.
A Department for Education spokeswoman said that detailed allocations, including a breakdown by subject, would be published within the next few weeks "once they have been confirmed by universities and schools.
"School Direct has built on many excellent long-standing relationships between schools and universities.
"We want these relationships to continue to give applicants plenty of choice about their preferred route into teaching.
"Higher education institutions are involved in seven in 10 School Direct places
'Very popular'
"We hit 95% of our recruitment target this year."
The spokeswoman added that three candidates applied for every School Direct place last year, and that requests from schools for School Direct places had "shot up from 9,600 to 17,700 in the past year".
Mr Rogers told BBC News said the broken down data was usually issued at the same time as the overall figures.
He said the delay this year would make it difficult for training providers, particularly universities, to plan.
"The only apparent reason it should now be kept secret is to prevent a timely and legitimate analysis of data before allocations are finalised", says the letter to Mr Laws.
In August, analysis of School Direct recruitment figures by Prof John Howson of Oxford Brookes University suggested a possible shortfall in the numbers of science and maths specialists.