University staff on strike over pay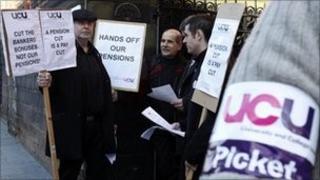 Lecturers and support staff at many UK universities are staging a walkout over pay.
Unions say there is "strong support for the action" and 149 institutions are affected.
But university employers say support for the strike is "not widespread" and disruption has been "minimal".
Rallies are planned for many cities over lunchtime as part of joint action between the University and College Union (UCU), Unison and Unite.
Union members say their pay has failed to keep up with rising living costs and have rejected a 1% pay offer.
But university employers say the "vast majority" of staff think the offer is fair.
Officials from the UCU say early reports are that some buildings and departments - including many libraries - have been closed.
Teaching at Liverpool John Moores University and Liverpool Hope University has been cancelled and the chemistry department at Loughborough is shut, they say.
The unions have rejected a pay offer of 1%, which they say represents a 13% pay cut in real terms since 2009.
They say universities will face the "most widespread disruption for years".
UCU general secretary Sally Hunt said: "Staff, from porters to professors have walked out this morning in protest at some of the most sustained pay cuts since the Second World War.
"Nobody wants to be on strike, but a 13% real-terms pay cut as vice-chancellors' pay continued to increase and universities' surpluses built up simply is not fair."
She said the unions had heard of closed departments and buildings and that some universities had cancelled all teaching for the day.
"If the employers try to spin the action as having little impact then it merely shows how out of touch they are with what is really happening on the ground at universities."
There was a 35% turnout in the UCU strike ballot, with 62% voting in favour of strike action.
Universities had warned students some classes might be cancelled and that some some facilities could be closed.
Helen Fairfoul, chief executive of the Universities and Colleges Employers Association (UCEA), told BBC News fewer than 5% of the higher education workforce had chosen to vote for strike action.
"We can see the strike is not widely supported," she said.
"The vast majority of staff think this is a fair offer. This is a difficult period. No pay levels in any sector have kept pace with inflation."
She added that salary costs in most institutions would actually rise by about 3% this year because some staff would get incremental increases and merit awards as well as the 1% increase.
A spokesman for the Department for Business, Innovation and Skills said: "We are disappointed that the unions have decided in favour of industrial action. Students have the right to expect that their learning will not be disrupted by such action."