Eight texts specified for 'linear' A-level English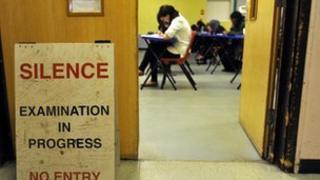 A shake-up of English literature at A-level will result in teenagers studying a minimum of eight texts in depth, says a consultation paper.
History A-level students will study a "chronological range" of at least 200 years, while science A-levels will include more maths.
The changes, put forward by exam boards with advice from academics, flesh out government plans for A-level reforms.
A-levels will depend on final "linear" exams after two years study from 2015.
The changes have proved controversial and include the "decoupling" of AS-levels from A-levels to become a stand-alone qualification.
Content review
The consultation document outlines revisions to 14 A-level subjects: art and design, biology, business studies, chemistry, computing, economics, English language, English literature, English language and literature, geography, history, physics, psychology and sociology.
It follows a review of the content of A-levels earlier this year chaired by Prof Mark E Smith, vice-chancellor of Lancaster University, with input from the exam boards.
The consultation translates the review's recommendations into proposals for each subject.
Maths and language A-levels are being considered separately and will not be taught until 2016.
In English literature, the eight texts to be studied in depth must include at least three works from before 1900 including a Shakespeare play, as well a work from after 2000.
Students currently have to study 12 texts - six at AS-level and a further six for the full A-level.
The new exam will also include an "unseen text".
"To prepare for examinations with unseen texts, students will need to read widely, broadening their knowledge and their critical and comparative understanding of literature", says the consultation paper.
English language A-level students will have to study six texts, including "non-literary" work such as essays or journalism.
The new history A-level will no longer require students to study more than one period. Instead sixth-formers will be asked to study topics from a chronological range of at least 200 years.
"This will enable A-level students to develop an understanding of historical events in the context of longer term and broader chronological changes," says the document.
Business studies and computing A-levels will be renamed business and computer science.
Students taking economics, computer science, biology, chemistry, physics and psychology A-levels, will have to use more maths.
In art and design, there will be "a new emphasis on drawing".
Coursework
Professor Smith said: "The government has made clear that higher education should have a greater role in reforming A-levels.
"I fully support an approach where universities play a key role, as we see first hand what A-level students have learned and the skills they have acquired.
"I believe the proposals set out here update, modernise and improve A-level content."
A separate consultation on A-level coursework and on the new AS-levels for the same 14 subjects was also launched on Friday by the exams regulator, Ofqual.
This looks at "subject by subject arrangements that put in place a better balance between exam and non-exam assessment or coursework".
The changes include the reintroduction of non-exam assessment of fieldwork in geography which will count for 20% of the final grade.
In biology, chemistry and physics, practical skills will be assessed but the marks will be reported separately and will not count towards students' grades.
AS-levels will be designed so that they can be taught alongside A-levels.
Ofqual says: "In other words the content of an AS will be a sub-set of the content for the corresponding A-level."