Record numbers apply to Oxford and Cambridge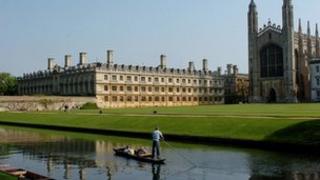 Record numbers of students have applied to study at Oxford or Cambridge in 2014, the two universities report.
Oxford said it had received 17,480 applications for undergraduate places, up from 17,216 on the 2013 deadline.
Cambridge said over 16,500 applicants for its courses this year represented a rise of almost 4% on last year.
Data from admissions service Ucas also showed a slight rise in applications for medicine, dentistry and veterinary degrees as well as for Oxbridge.
Oxford and and Cambridge share an early deadline for applications of 15 October with medicine, dentistry and veterinary courses because they are all heavily oversubscribed.
Overall some 58,200 people applied by that date this year, compared with 56,810 last year.
Much of the overall increase appears to be driven by applications from overseas.
The figures include a 10% rise in applications from outside the European Union, with 11,230 people applying this year, against 10,240 last year.
'Competitive applicants'
Cambridge attributed the highest number of applications since its records began to "extensive outreach work" and a "high-profile commitment to fair admissions".
Mike Sewell, director of admissions for the Cambridge colleges, said: "It is great to see a record number of students who feel confident that they will be competitive applicants to Cambridge.
"Cambridge is committed to evidence-based admissions decisions which take into account a student's most recent exam results.
"Our applicants know that their applications will be assessed fairly on their track record and that places will be won on academic factors alone".
The Ucas data shows 40,740 of the 15 October applications were from the UK, up from 40,600 last year. Applications from England rose from 35,970 in 2013 to 36,120 in 2014.
Applications also increased from Wales (up 5%) and Scotland (up 2%) but dropped by 10% in Northern Ireland.
This represents the highest number of applications from students in England since 2010.
There were also more applications from the European Union, with a 4% rise on 2013, and a 10% rise in the numbers of non-EU applicants.
Ucas chief executive Mary Curnock Cook said: "It is encouraging to see that the number of UK applicants for these demanding courses is holding steady, particularly as the young population continues to fall in this group.
"The number of international applicants is up by 10%."
The application deadline for most other courses and universities is 15 January 2014