Five-year-olds find literacy standards hardest to meet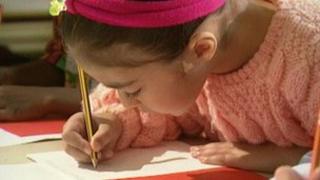 Fewer five-year-olds in England are achieving expected standards in maths and literacy than in other key measures, suggests new data.
Some 61% achieved at least the expected level in literacy and 66% in maths, according to data published by the Department for Education (DfE).
By contrast, 89% reached the expected level in physical development and 87% in expressive arts and design.
The figures are based on simplified measures introduced in September 2012.
The first assessments under the new Early Years Foundation Stage Profile were this summer.
By the end of the school year in which they turn five, children are expected to be able to write simple stories, lists or letters.
Basic sentences
Reading ability is judged on measures such as being able to use cues such as pictures to understand basic sentences.
In maths children are expected to be able to count to 20 and do simple adding adding and subtracting, as well as solve simple problems with shapes, measurements, time and money.
Teachers assessing children at the end of their reception year at school now focus on 17 benchmarks in three prime areas of learning:
physical development
language and communication skills
social and emotional development
The previous Early Years Foundation Stage, with 69 measures, had been criticised as too bureaucratic.
The new data shows over half (52%) of children achieved a "good" level of development, which is considered to be at least the expected level within the three prime areas as well as the expected standards in literacy and mathematics.
There was a substantial disparity between the achievement levels of girls and boys.
"Girls outperformed boys in all areas of learning," says the DfE's summary of the findings.
Some 60% of girls were assessed as having a good level of development, compared with 44% of boys.
In literacy some 69% of girls achieved at least the expected level, compared with 53% of boys.
'Key skills'
The gap was narrower in mathematics, with 70% of girls achieving the expected level, against 63% of boys.
A DfE spokeswoman said the new streamlined profile for the foundation stage "places a stronger emphasis on the areas which are most essential for a child's development and a greater focus on the key skills children need for a good start in life".
The spokeswoman said reforms to childcare would help all children, regardless of their background, to get a good start in life.
"Our reforms are also focusing on improving the quality of professionals working in the early years, by introducing early years teachers and early years educators into nurseries who will specialise in early childhood development.
"Ofsted is introducing a tougher early years inspection framework to improve outcomes, and put a stronger emphasis on the areas which are most essential for a child's development, such as strong communications and a good vocabulary", she added.
Christine Blower, general secretary of the National Union of Teachers, said: "Children in the UK already start formal schooling much earlier that in most other countries.
"It is quite simply inappropriate to replace the developmental assessments at which teachers are proficient with rigid literacy and numeracy assessments.
"What is needed in the early years is a broad approach to move children on in their learning, not a series of tests which could create a sense of failure."