David Beckham inspires new branch of thought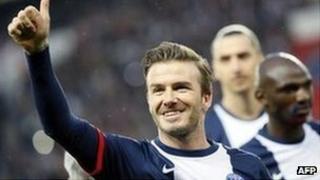 A new branch of thought, Becksistentialism, will be brought before the public by Cambridge University this week.
David Beckham's imagined philosophical awakening during his time with Paris Saint Germain will be highlighted during the Cambridge Festival of Ideas.
For its inventor Dr Andy Martin, Becksistentialism is "existentialism but with a very cool haircut".
The lecture will be based on Dr Martin's blog, Becks in Paris.
The blog "imagines Beckham's internal monologue as he collides with the Parisian intellectual tradition - the glittering surface of a footballing icon cracked open by existentialism. Golden boy deconstructed."
Dr Martin, a lecturer in French philosophy at Cambridge University, began writing it after the former England star signed with Paris Saint Germain on a five-month deal before retiring from the game in May.
'Becksistential crisis?'
Beckham was reaching a turning point, reasoned Dr Martin.
Would he succumb to ideas of existentialist angst, meaninglessness and absurdity as defined by great French writers such as Sartre?
Or would he find "the best of all possible worlds" like Voltaire's Candide?
"I found myself identifying with Beckham, having lived myself in Paris in bygone days. As an east Londoner and having once captained a regional amateur team, I always felt if I hadn't got into philosophy I could have been a footballer," he told BBC News.
"I could imagine myself living the life he was living in Paris.
"It is impossible for a reasonably intelligent guy like Beckham not to have had some sort of revelatory encounter while he was there."
Dr Martin says links between philosophy and football go beyond the personal.
"Derrida used to follow Paris Saint Germain.
"Philosophy aspires to the condition of football."
L'Etranger
He points out that Albert Camus, author of The Outsider and The Plague, once played in goal and that 2013 is the centenary of his birth.
"Philosophy came to him as a kind of substitute when he was forced to give up football by tuberculosis.
"Being an existentialist is normal.
"It gives you a guide to life and a way to understand how you have screwed up.
"Everything always goes wrong - and if you think about the England football team over the past few decades you can hardly disagree."
He imagines the crises that Beckham may have been through during his football career, starting with his sending off during the 1998 World Cup: "I was at that game."
Dr Martin regards the midfielder "as an exemplar or embodiment of a number of philosophical propositions" about crisis, conflict and identity.
"The thing about Beckham is that he doesn't say much so you have to be a subtle interpreter of signs.
"He has this ability to reinvent himself time and again - and every time he pops up his hair is different - a signal of his mutability.
"My basic hypothesis to get into the soul of Beckham is to echo Descartes and to think that he thinks.
"He couldn't be seen carrying a book as that would shatter his image but maybe he looked at The Outsider on his phone while he was in Paris."
Dr Martin sees Beckham as having taken a similar journey to Voltaire's Candide, who starts out as the ultimate optimist but is forced by life to take a more complex view.
"If you look beyond the shiny surface you find complexities which existentialism brings out and dramatises."
The lecture, Becksistentialism, is one of 200 events planned for the Festival of Ideas which begins in Cambridge on Wednesday.