More universities 'look beyond grades' for students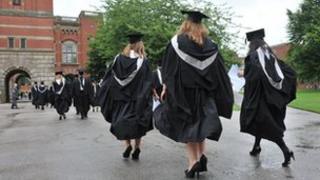 More UK universities are using personal and extra information - not just grades - to decide which students get places, a report suggests.
Of the 67 institutions who replied to a survey, 37% said they used such "contextual data" - and most of the remaining ones planned to do so.
UK universities are encouraged to use such data to recruit more students from poor homes.
University leaders are calling for an informed public debate on the issue.
In England, permission to charge tuition fees higher than £6,000 a year is on condition that universities work to attract and recruit more poorer students.
Less formal arrangements, also encouraging this move towards "widening participation", are in place in Wales, Scotland and Northern Ireland.
Research carried out by a publicly funded but independent body called Spa (Supporting Professionalism in Admissions) looked at what kind of extra information universities were using when making offers to students or deciding whom to admit.
It says a survey it carried out of UK universities in November last year found that 37% of those who responded (67 in total) used contextual data and 57% planned to do so.
Borderline pupils
Extra information used (beyond grades and predicted grades) includes personal details put on an application, information about applicants' school or college, the kind of area they live in and whether they have taken part in activities designed to "raise aspirations".
Such data is used mostly, Spa found, in considering whether to admit "borderline" pupils at the point when places are confirmed.
After that, it is used in clearing - the process run in August to match students to places - to decide whom to offer places to, to interview and to admit.
Finally, the researchers say such information is used to consider "whether or not to make a differential offer" - that is, when deciding to make someone an offer at lower grades than is usual because of the potential they show.
Contextual data has been used for "many years", according to Spa, but is now "playing an increasing role in strengthening fair admissions and access at all stages of the admissions process".
It says more research is needed - as well as more transparency from institutions about their admissions systems.
The study says more universities are moving towards a centralised system for admissions, away from individual departments controlling this.
Professor Janet Beer, chair of the Spa steering group and vice-chancellor of Oxford Brookes University, said: "Spa's report brings together, for the first time, the evidence base for using contextualised admissions in the UK higher education sector.
"It shows us that this information has an important role to play in ensuring fair access for applicants as well as helping to sustain academic excellence by admitting those who demonstrate the strongest potential to thrive in higher education."
Professor Beer added that there was a "growing appetite" among universities for using contextual data, not least because of the more competitive market.
'Informed public debate'
Paul Clark, from Universities UK, which represents university leaders, said universities were "driven by the desire to maintain excellence by recruiting the best students for their courses and identifying candidates with the most potential to succeed".
"This report shows that increasing numbers of universities are looking to use contextual data to do this," he said.
"University can be a life-changing experience. Contextual data is one way of ensuring that anyone with the ability and desire to go to university has the opportunity to do so.
"As the report concludes, it is also important that universities are open about their use of contextual data and information. There is a need to have an informed public debate about the merits of using this additional data in the university admissions process."
There has been some criticism of the use of such data and accusations that this amounts to "social engineering".
Private school heads say they support the "sensible and sensitive" use of such information - as long as it is used fairly.
Chris Ramsey, from the HMC which represents leading independent schools and head master of the King's School in Chester, said contextual data was an important part of the admissions process - and his school used it too.
"We are not opposed to its use - as long as it is personal to each student, sensitively and sensibly used, and as long as it is not simply blanket bias for or against certain student types - for example, bias for or against students who went to a particular type of school," he said.
"Each student deserves to be treated as an individual, not as part of a politically-determined group.
"A student who has been, for example, educated at a low-performing school for only part of his or her career, or who is state-educated but from a socially privileged background, should not be advantaged over one who has worked hard or been given a bursary at an independent school."