School league tables widen to eight subjects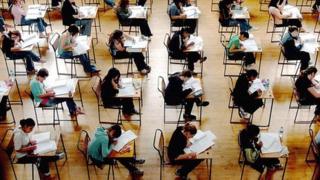 Secondary school league tables in England are to be re-designed to discourage an over-emphasis on pupils achieving C grades at GCSE, says Schools Minister David Laws.
From 2016, schools will be measured on overall results in eight GCSE subjects.
There will be four key league table measures, showing pupils' progress as well as final grades.
Education Select Committee chairman Graham Stuart has hailed the change as an "educational breakthrough".
Mr Stuart said it would remove the "damaging obsession" with the C grade boundary.
Point score
Setting out the reforms in the House of Commons, Mr Laws said they would remove "perverse incentives for schools to act in a way which is not in the best interests of pupils".
It will mean shifting away from the current league table system, where schools are ranked by the percentage of pupils achieving five GCSEs grades A* to C, including English and maths.
There had been concerns that a disproportionate amount of attention is paid to pupils on this C/D borderline, to the detriment of pupils who achieve at a much higher or lower level.
"This gives schools a huge incentive to focus excessively on the small number of pupils around the five Cs borderline. This is unfair to pupils with the potential to move from E grades to D grades, or from B grades to A grade," said Mr Laws.
He told MPs that it could also conceal "coasting" schools in more affluent areas, rewarding them with high positions in the league tables without stretching their pupils to achieve their full potential.
From 2016 there will be four league table measures for schools.
It will show pupils' achievements across their best eight subjects - including English and maths, three core English Baccalaureate subjects including history, geography, physics, chemistry and languages and three other subjects which can include art, music, drama and business.
This result will be shown as an average grade for the school, such as a B-.
As well as showing GCSE results there will be a measure of progress, showing how pupils have advanced since taking tests at the end of primary school.
This will be expressed as a score showing how much the results vary above or below expected levels. If schools achieve the expected levels they will score zero - and if they are below expected levels, they will have a minus score.
There will be extra weighting for specific subjects, with English and maths worth double points.
Other measures are the percentage of pupils achieving C grades or higher in English and maths and the proportion gaining the English Baccalaureate subjects, English, maths, history or geography, the sciences (including computing from next year) and a language.
Underperformance
The revised league tables will mean changes to the way underperformance and minimum "floor targets" are measured.
The new floor targets will be based on the amount of progress pupils should have made since primary school.
Mr Laws defined the new floor standard as "progress half a grade lower than reasonable expectations. So, if pupils at a school are expected to average a B in their eight subjects, the school will be below the floor if they average less than four Bs and four Cs".
In terms of how this threshold will be shown in the new-look tables, such a half grade below expectations would be expressed as -0.5.
If schools perform above expectations in pupil progress, equivalent to a full grade above, or +1.0, they will not face an Ofsted inspection the following year.
At present there are 195 schools below the minimum level of achievement, but Mr Law said that if the new plans were applied to current results the number of schools below the threshold would double.
"The fact that the new accountability measures will put many more schools below the new floor targets will be devastating to many," said the National Union of Teacher's leader, Christine Blower.
But she welcomed the "move away from a 'spotlight' on pupils on the C/D borderline. It still remains the case however that a league table and target culture will persist".
Head teachers' leader Brian Lightman said there was much to welcome in the changes, including the shift away from focusing on the C grade boundary.
But Mr Lightman, leader of the Association of School and College Leaders, said this was "seriously undermined by other ad hoc changes to the examination system".
Mary Bousted, leader of the ATL teachers' union, backed the principle of "prioritising the progress schools make with their pupils rather than simply rewarding those with the top grades".
But she cautioned that the measurements of progress depended on the reliability of Sats results as the starting point - saying that their validity "cannot be counted on".
Mr Stuart welcomed the changes to the league table system: "These plans are an educational breakthrough that will blow away the damaging obsession with the C/D grade boundary and help every child achieve the best possible results."
Chris Paterson, author of a report on school accountability for the think tank Centre Forum, said: "Getting the measure that drives school league tables right could be the single most important education reform of the coalition government."