University boss: Head teacher, mayor or chief executive?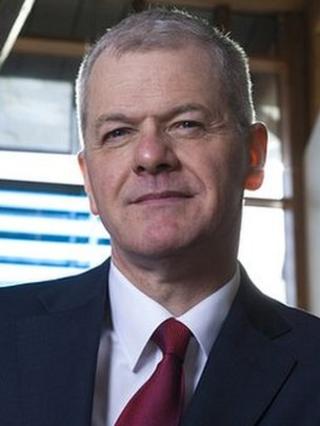 Sir David Bell is vice-chancellor of the University of Reading. So what does he do all day?
Does it make him a high-powered head teacher, responsible for the university's academic prowess?
Or does it make him chief executive of a multi-million pound enterprise, plotting its future business strategy?
Sitting in his office at the beginning of a new academic year, it's a reminder of how many big decisions are lying ahead of the UK's university leaders.
On the most practical level, he says, it's like running a small town, with its own housing, doctors, libraries, nursery, shops, bars, sports facilities, hundreds of acres of parkland and campus security.
There is an ambassadorial role of seeing and being seen.
Biggest employer
But it's easy to overlook how much universities have grown in terms of local economic significance. It's a long way from being an academic cottage industry.
The vice-chancellor in many university towns is now the biggest local employer, apart from the NHS.
There are 4,000 people directly employed by Reading University and many more depend on its spending power. The university and its staff and students are worth an estimated £1.78m every single day to the local economy.
Universities like Reading were often set up with money from local big businesses - and now they've become the local big spenders themselves.
Reading University is a member of the Confederation of British Industry (CBI), as well as belonging to academic groups.
Even after students finish their courses, the impact continues, with an estimated 19,000 of the university's graduates continuing to live and work in the area.
There is an international dimension, as the UK's universities look to expand overseas, not least because of the need for a reliable source of extra income.
Reading already has an outpost in South Africa and is planning to open a campus in Malaysia. They decided not to go ahead with plans for China.
Sir David, a former Ofsted chief inspector, says the university needs to make plans to offset the volatility of relying on undergraduate student numbers.
Legacy
The word that Sir David uses to describe his responsibilities is "stewardship".
The university is heading towards the 100th anniversary of its charter and as the current captain of the ship he wants to make sure it continues safely into the future.
He says he "feels the weight" of this legacy and has the words of a previous vice-chancellor on his office wall: "Universities are living things - they feel, think and do."
"There's a danger in being purely a chief executive. At the heart, it's about teaching and research," he says.
He says he spends as much time as he can with the academics.
In terms of running the organisation, there is the weekly equivalent of a cabinet meeting of senior staff.
"You sometimes feel vulnerable, you're carrying financial risks. These are big decisions about opening campuses overseas. But you have to make the best decisions at the time with the information available."
There is also a responsibility for 17,000 young lives.
He says he has been meeting and greeting new arrivals at the university. Watching parents saying goodbye to their children has brought home to him the importance of this moment.
"This is a big deal. We've got to look after them. It's often their first experience away from home."
The funding of universities is increasingly dependent on attracting undergraduates and their tuition fees. And the unpredictability is a problem for long-term planning.
"I can't imagine there's a vice-chancellor in the land who isn't thinking about it."
Building boom
It raises questions about how mainstream, provincial universities, with a tradition of doing a bit of everything, can make themselves distinctive. Not just compared with other UK universities but also international rivals.
The emergence of online university courses - so-called Moocs - makes the powerhouses of US universities only a mouse click away.
The uncertainty over undergraduate numbers has given universities an incentive to find other sources of income, such as shifting towards graduate courses and executive training.
The Henley Business School, a slice of the City on the Reading campus, has its own mock trading rooms.
Postgraduates are now 45% of the students on Reading's campus.
But how should a modern university present itself? Is it meant to be clad in ivy or silicon?
On a warm autumn afternoon, the Reading campus looks like something from an American college movie, with youngsters practising American football on leafy sports fields.
It's a long way from roll-up cigarettes and Oxfam overcoats.
There has been a surge of new university buildings to attract young students. In Reading they've put £400m into new accommodation.
Sir David says universities have had to respond to "changing patterns of affluence and what young people expect".
"I don't take too precious a view of that."
But if universities spend too much, they can be accused of being cash rich.
When earlier this year the university bought a unique Samuel Beckett manuscript to add to its archive there was some carping about the price tag of £962,500. A US university would have told everyone it cost twice as much and put it all over the website to show they were serious players.
Sir David says that despite the upheavals in funding and technology and the push towards a more competitive system he expects more to stay the same than will change.
"We're in turbulent times," he says, but remains confident that the university will still be recognisable in two decades.
"There is something powerful in having great seats of learning."