Delay GCSE entry changes, says schools leader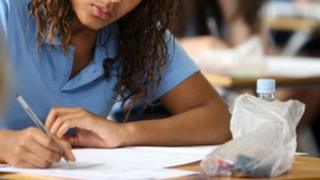 Education Secretary Michael Gove has been asked to delay mid-course changes aimed at stopping schools from entering pupils for GCSEs before they are ready.
The Independent Academies Association head Nick Weller said stopping GCSE retakes from counting in England's league tables could backfire on pupils.
It is claimed that schools enter pupils early so they can bank a key C-grade, only taking exams again if they fail.
The government says heads will still be able to enter students for GCSEs early.
But it argues that if pupils are entered for exams at the expected time - at the end of a two-year course - they are more likely to do better.
Mr Weller, who is chairman of the main body representing state-funded but privately run schools known as academies, said in a letter to Mr Gove that he shared the secretary of state's concern about multiple entries for the same qualification and other aspects of league table "game-playing".
But he was worried about "damage being done to students' prospects this year" because the changes were effective almost immediately - affecting the league tables based on next summer's GCSE results.
He appealed to Mr Gove to delay the proposed changes so that current GCSE students could continue their courses as planned.
'Undermine confidence'
"I am not sure that the department has fully understood the unintended consequences of previous mid-course changes in relation to the GCSE qualification, and I fear that these latest revisions, if they are as reported, will further undermine confidence in the system," he said.
He also questioned whether the Department for Education could clearly distinguish between "gaming" the league tables and doing what was best for students.
"Many schools will now cancel early entries, despite the fact that students themselves might be better off sitting a paper this winter with the chance to retake if necessary in the summer," he said.
He added that academy leaders were "dismayed at the confusion and loss of confidence in the GCSE examination since the summer of 2012".
This follows the changes to grade boundaries to GCSE English courses midway through the year, which left pupils with the same marks on different grades. It was the subject of a judicial review against Ofqual and some exam boards by teaching unions, which was not upheld.
Mr Weller said: "Sensible reform in the pursuit of rigour should be associated with greater clarity, consistency and logic, not less."
And he urged the secretary of state to consult properly with professionals he trusted on any further revisions to the exams system.
'Damaging trend'
A Department for Education spokesman has said: "We recognise that early entry can be used effectively in certain cases and schools will continue to be able to enter pupils early for examinations where they feel it is appropriate.
"However, schools should definitely not be entering children for exams before they are ready. It is not good for pupils to be put in early in a school's hope they can 'bank' a C - it is far better that children study the subject fully and take it when they are ready."
A document on its website said the changes were being made to address "the significant increase" in early entry in recent years.
The education secretary has previously described early entry as a "damaging trend that is harming the interests of many pupils", adding that there is evidence that "candidates who enter early perform worse overall than those who do not, even after resits are taken into account".
League table 'tricks'
The DfE paper continues: "It seems likely that candidates are being entered before they are ready, and 'banking' a C grade where their performance at Key Stage 2 [end of primary school] would suggest that if they had continued to study the subject and taken the GCSE at the end of year 11 they could have achieved a top grade."
"If schools decide they wish to withdraw students from November examinations, they should contact their exam board.
"If schools are confident that pupils will achieve well even when entered early and that early entry is therefore in the interests of the pupil, they should not need to make any changes to entry plans. Any pupil who does enter early from this point on will still be able to retake if they receive a disappointing result.
"That result will not count towards the performance tables for their school, even if it is an improvement on their earlier entry, but pupils will still be able to use their best result to support applications to further and higher education, or for employment."
It comes as head teachers are writing to parents also expressing concern about the changes.
A joint letter from the National Association of Head Teachers and the Association of School and College leaders says: "Without any notice and with immediate effect, the government has limited schools' ability to enter students early for GCSEs - after we had already planned entries for the year. Early entry can serve many good purposes, including vital 'live' preparation for later exams.
"It seems that barely a term goes by without another sudden change to GCSE examinations. Worst of all, these changes are often made in the middle of students' courses of study, making it impossible to plan properly or to focus on learning rather than constant administrative change. They changed grade boundaries between exam sittings; they dropped the vital skills of speaking and listening from English mid-course; and now this latest announcement.
"These changes are often timed to coincide with party conferences or similar events, leading us to fear that students and schools are just collateral damage in party political squabbles."
The move, announced last weekend, is one of a number steps brought in aimed at preventing schools from engaging in league table "tricks" that some say may harm pupils' prospects.