Q&A: Teachers' strike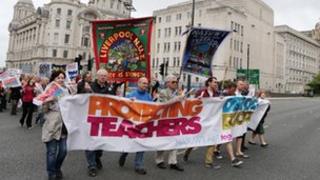 As thousands of teachers across England and Wales prepare to go on strike over pay, pensions and conditions, we look at the backdrop to the industrial dispute.
Why are teachers striking?
Members of the NUT and NASUWT are taking industrial action over a range of issues affecting teachers including pay, pensions, what they say are excessive workloads, working conditions and job cuts. The unions say teachers are deeply concerned about the impact these imposed changes are having on the morale of the teaching profession, the recruitment and retention of teachers and on the provision of quality education for pupils.
They accuse Education Secretary Michael Gove of making changes to teachers' pay, pensions and conditions of service which are making it harder for schools to recruit and retain good teachers.
The main bone of contention is the introduction of a tougher version of performance related pay and what the unions say is an attack on national pay structures.
How widespread has the action been?
The latest planned walkout would affect schools in England and Wales. It would be the third national stoppage since 2011- there have also been a number of regional strikes.
The NUT says it will strike again on 26 March. The NASUWT, which has previously taken joint action with the NUT, will meet on 14 February to decide whether it will join in this time. Scotland and Northern Ireland are not affected.
What does the government say?
Secretary of State Michael Gove has been clear about his feelings towards teaching unions. He has made numerous speeches in which he has attacked them for obstructing his plans to change the education system in England and, with it, the way teachers are paid. He also claims the leadership of these unions is motivated by ideological concerns.
The Department for Education accuses the unions of striking over the government's measures to allow heads to pay good teachers more. This refers to the performance related pay structures just introduced in September under which teachers will only progress up pay scales if they meet certain standards. The government has been clear that good teaching is one of the key ways to improve school performance.
It says any industrial action disrupts pupils' education, inconveniences parents and damages the profession's reputation in the eyes of the public.
Is there hope of a settlement soon?
It seems unlikely. The unions say the secretary of state is refusing to engage in genuine talks about their concerns, despite numerous requests. But Mr Gove says that he has met with the NUT and NASUWT nearly 40 times, and with all teaching unions many more times since taking office.
The unions called off a day of action last October in order to "engage constructively in an agreed programme of talks with the secretary of state".
Since then there has been an exchange of letters which culminated in a meeting between Mr Gove, the two unions involved, and a number of other education unions, which took place before Christmas 2013. That meeting included representation from Edapt, an organisation that describes itself as "the teachers' union alternative".
Since then discussions have centred on who should be involved in talks, and what their agenda should be. It has so far been impossible to reach agreement on even these issues.