'Childhood damaged' by over-testing, says poet laureate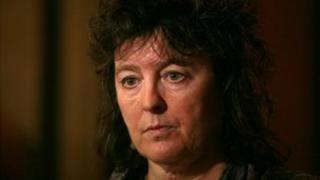 Children in England's schools are being damaged by a culture of "incessant testing", says a group of academics and writers, including poet laureate Carol Ann Duffy.
They have written to the Times, warning that changes to the curriculum and targets are harmful for children.
The letter warns of "devastating consequences" for childhood.
A Department for Education spokesman said schools now had greater "freedom to innovate and inspire".
The letter, with 198 signatories, argues that the increasing pressure to improve test results will create a narrowing education for children, with teachers put in a "strait jacket" of targets.
'Teaching to the test'
The academics and writers call for a consensus among teachers, parents and politicians about the "future of education".
"Competition between children through incessant testing and labelling results is a public sense of failure for the vast majority," says the letter to the Times.
"The drive towards ever-higher attainment in national tests leads inevitably to teaching to the test, which narrows the range of learning experiences.
"Harmful stress is put on young people, their parents and their teachers.
"These damaging developments must stop. If they go ahead, there will be devastating consequences for children's mental health, for future opportunities and, most importantly, for the quality of childhood itself."
The theme of getting the balance right between academic testing and children's well-being was also raised by Tim Hands, chairman of the Headmasters' and Headmistresses' Conference (HMC), which is holding its annual conference.
Mr Hands, speaking on Monday, criticised political interference in education - "the long interfering arm and dead restraining hand of government" - and said that the "principles of commercial accountability" had been applied to schools in a way that was "flawed".
"The story of the last 50 years is the intrusion of government and the disappearance of the child. More radically put, it is by extension the intrusion of the state, and the disappearance of love," said Mr Hands.
Education Secretary Michael Gove is to address the Conservative party conference on Tuesday.
And a spokesman for the education department defended school reforms as raising standards and giving more freedoms to heads and teachers.
"Our rigorous new curriculum, demanding GCSEs and high-quality A-levels involving universities will raise academic standards for all children.
"The new TechBacc means young people more suited to a vocational route will again be able to take courses we know lead to good jobs and skilled trades.
"Teachers now have more power than ever before to ensure discipline in the classroom.
"And thousands of brilliant heads and teachers now have the freedom to innovate and inspire thanks to our academies and free schools programmes."