University acceptances bounce back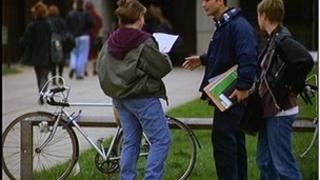 The number of students accepted at UK universities has risen, climbing back towards levels before fee rises.
Data from the admissions service, Ucas, shows 445,820 UK and European Union students had been accepted on to degree courses 28 days after A-level results.
This is up from 408,480 at the same point last year, but slightly down on 2011, the final year before tuition fees rose, when the figure was 465,070.
Freshers at England's institutions are the second cohort to face £9,000 fees.
The figures are set out in a 14-page Ucas report looking at university acceptances a month after this year's A-level results were released.
The report also shows a third of the students accepted on to university degree courses in England this year had gained at least an A and two B grades in their exams.
In total, 111,010 of those accepted by institutions in England had got ABB at A-level or an equivalent qualification, in comparison with 103,980 the previous year.
This year there was no limit on the number of students with ABB or higher universities could recruit.
The figures indicate about 33% of the acceptances were for the brightest students - those with ABB or higher.
Of those who met the ABB threshold, about 76,700 had taken A-levels, 28,580 had sat BTec courses, and the rest had taken other qualifications.
Degree value
Nicola Dandridge, chief executive of vice-chancellors' group Universities UK, said: "It is good news to see an increase in acceptances compared to last year.
"It shows that applicants are continuing to recognise the value of a university education.
"At a time when the 18-year-old population group, the largest group of applicants, has been shrinking, this is also significant.
"While large numbers do apply to university via the A-level route, it is worth remembering that applicants are also applying increasingly with a range of other equivalent qualifications.
"The priority for universities is making sure that they can attract the widest spread of able students with the potential to succeed."
Universities Minister David Willetts said: "This latest Ucas data shows that acceptances have bounced back. This year more students are getting their first choice university than ever before.
"Universities have been free to recruit as many students with grades ABB or above at A-level, which is about one third of student places."