Plea for government to pay for private school places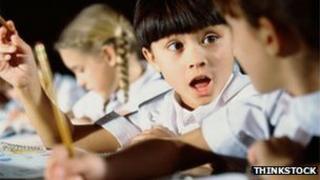 A state subsidy for private school fees could provide a partial solution to the school place shortage, a prep school leader has suggested.
The government's Tax-free Childcare scheme could be adapted to school fees, says David Hanson of the Independent Association of Prep Schools (IAPS).
Official figures predict 250,000 extra places will be needed by next autumn.
The Campaign for State Education dubbed the idea "an opportunistic attempt to shore up failing private schools".
Despite the government doubling funding for new places, a rising birth rate and increased immigration are among an array of factors predicted to contribute to a continuing shortfall.
Earlier this month the Local Government Association said this could amount to 20% too few places by 2015.
Voucher scheme
Mr Hanson suggests that adapting the Tax-free Childcare voucher scheme, due to begin in 2015, to include school fees, could help private schools "pick up some of the slack".
From 2015, parents earning up to £150,000 will be able to claim tax-free vouchers worth £1,200 a year per child to subsidise the cost of childcare for every child under five.
It will eventually include children up to 12 says the government.
Parents will be able to spend the vouchers with any Ofsted-regulated childcare provider in England and the equivalent bodies in Scotland, Wales and Northern Ireland.
"Futurologists might say why not take this idea forward," Mr Hanson told BBC News.
"Just as we already see in health provision, the private sector can relieve some of the pressure on the state."
A survey for IAPS, which represents 600 schools, has suggested that more than half of adults would use private schools if they could afford them.
'Further privatisation'
"Parents' ability to pay is the major inhibitor," said Mr Hanson, adding that government help with fees for less wealthy families "could help resolve this".
The group say that on average, fees for prep schools, which cater for pupils up to the age of 13, are below £10,000 a year - though figures this week from the Good Schools Guide suggest fees for boarding schools are £27,600 a year on average - higher than the average UK salary of £26,500.
Michael Pyke of the Campaign for State Education said: "As a partial solution to a projected shortfall of 250,000 places, this idea can't be taken seriously and, at best, just seems like an opportunistic attempt to shore up failing private schools with public money intended for other purposes.
"At worst, it threatens further privatisation to a service which has already become alarmingly fragmented as a result of government policy."
David Simmonds, chairman of the Local Government Association's children and young people board, said: "The real solution lies in government untying councils' hands so they can get on with job of meeting the unprecedented demand for places.
"Local authorities are doing everything in their power to ensure there is a school place for every child in their area, but they are being hampered by unnecessary restrictions and financial uncertainty."
Mr Simmonds urged "removing government restrictions on schools working together, closer scrutiny to ensure new free schools and academies are opening where they are needed, and government ensuring that capital funding is allocated quickly and targeted at areas where the demand is greatest".
An HM Treasury spokeswoman said the Tax-free Childcare scheme was designed to give working parents "more choice to the quality, affordable childcare they need, and is for use with childcare providers not school places".