'Full facts' promised on sixth forms and colleges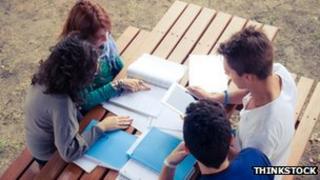 Proposed new performance tables for sixth forms and colleges in England will help pupils decide where best to study after GCSE, says the government.
The current league tables focus on A-level results and have been criticised as confusing.
The plan will also require institutions to meet minimum standards.
"It is high time parents and young people were given the full picture of performance," said Schools Minister David Laws.
"To build a stronger economy and a fairer society it is vital we raise standards so all our colleges and sixth forms perform to a high level.
'Positive impact'
"We are already seeing how both primary and secondary schools have responded to the challenge we set them - and we expect these new accountability measures in the post-16 sector to have an equally positive impact," said Mr Laws.
The government has launched a consultation on the proposed new tables, which would continue to highlight A-level grades but would also include separate lists for pupils' completion rates in a wider range of vocational and academic qualifications.
There will be new measures of students' attainment - what grades they achieve, their destinations - whether they go on to university or into employment, their progress from when they first arrive at college and a measure of how many actually complete their courses.
Institutions that do not meet required standards will face intervention, says the government.
The changes will reflect new rules on post-16 education - for example the government requires pupils to continue to study English and maths until they reach at least a C grade.
So the new tables will include an indication of how well schools and colleges do in achieving this.
From 2016, the performance tables will include information on Tech-level vocational qualifications, some of which will have A-level status and are due to be taught from 2014.
Malcolm Trobe of the Association of School and College Leaders cautioned that some of these measures, for example on GCSE English and maths, would be experimental and that parents and students should not necessarily rely on them.
He added that it was important for students "to look at the college's performance in the subject areas they actually want to study, whether it be maths, physics and chemistry at A-Level or a BTec in leisure studies, rather than focusing too much on the overall performance rates for the institution."
"There is a host of things to look at beyond performance data - for example the sort of learning support on offer.
'Crucial information'
"The vast majority of schools and colleges publish this information in their prospectuses."
Martin Doel of the Association of Colleges (AoC) welcomed the plan to apply the same measures to both schools and colleges but said the data needed to be "accurate and comprehensive" to be an effective tool for improvement.
"AoC has raised concerns in the past about the inaccuracy of some performance table data and the detrimental impact this has on the ability of parents and students to make sensible choices.
"Clear, reliable and comprehensive information of the kind being proposed is crucial if performance tables are to underpin student choice, new government policies or as a trigger for intervention in under-performing schools or colleges."
James Kewin of the Sixth Form Colleges' Association welcomed an end to the "narrow focus on raw attainment" in the current tables.
"We strongly support the inclusion of a progress measure and agree that this is a better way to assess the effectiveness of schools and colleges."
He added that new completion measures would help minimise confusion over pass rates: "While a 99% pass rate can seem impressive to parents and students, this measure does not tell you how many young people who started the course actually finished it."