Government to fund therapy for adopted children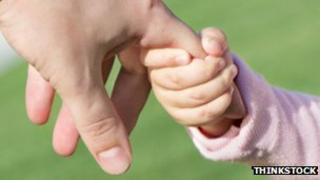 Adoptive parents in England whose children need therapy will have access to a £19.3m support fund from 2015, the government has announced.
The Adoption Support Fund is aimed at helping children who may have suffered abuse and neglect.
It follows calls for more support for families to ensure that adoptions do not break down.
David Cameron described the fund as "a lifeline for many adoptive families".
"I also hope it will reassure parents thinking about embarking on the hugely rewarding journey of adoption, that if challenges do arise, they will no longer be left alone to cope," said the prime minister.
More support
In March this year a House of Lords report called for adoptive parents to have a legal right to support.
The Lords Committee on Adoption Legislation said adopted children may have behavioural problems that were not resolved simply by being adopted.
The report said inadequate support risked adoption breakdown "and the possible return to care of an already damaged child".
Committee chairwoman Baroness Butler Sloss described the funding as "very good news".
"This is a very exciting announcement and I am thrilled by this government initiative - £19.3m seems a very substantial sum to me and this amount will go a very long way to provide the help these children need."
Details will be announced by the Children and Families Minister, Edward Timpson, at a conference on Wednesday.
"We know that children adopted from care have often lived through terrible experiences which do not just simply disappear once they have settled with their new families", Mr Timpson will say.
He intends the money to be used for support such as cognitive therapy, music and play therapy and attachment-based therapy "to ensure that these children have a stable and fulfilling childhood - a fundamental right for every child, no matter what their starting point in life".
A pilot scheme will be announced later this year.
The funding is part of the government's drive to boost the number of adoptions and to make the process quicker and easier and has been welcomed by adoption charities.
Breakdown risk
Hugh Thornbery, chief executive of Adoption UK, said it had the potential "to be the most influential advance so far in improving today's adoption system".
Jonathan Rallings, of Barnardo's, said: "Better support will help reduce adoption breakdowns and encourage more people to become adoptive parents."
Sue Kent, professional officer at the British Association of Social Workers, also welcomed the move but sounded a note of caution.
She said: "Any additional support for adoptive parents and children is welcome, but the government must stop shying away from a proper discussion of the issue of adoption breakdown.
"We estimate that one in five adoptions currently breaks down, and the child is separated from the adoptive family.
"It is difficult to give an accurate figure as the government is not keeping centralised data on this."
Ms Kent warned that although adoption could be "life-changing" for some children "it is not suitable for all".
"A sole focus on adoption takes a very simplistic view of the care system, which involves fostering, residential care and kinship care.
"We want to see greater investment in the system as a whole, for all children, not just a small part of it."