A-level science plans flawed, say learned societies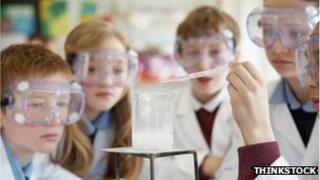 Plans for tougher A-level sciences are being rushed and may misfire, a group of scientific organisations has warned.
The group, Score, has criticised a decision by exams watchdog Ofqual "to push ahead" with changes to science A-levels ready for teaching in 2015.
Score, which includes the Royal Society and Institute of Physics, claims it has been sidelined in discussions about the new qualifications.
An Ofqual spokeswoman said consultation with subject experts was continuing.
On Friday, the regulator announced that changes to maths A-level would be delayed by a year, until 2016, but no such announcement was made for the sciences.
Exam questions
Score says this is likely to result in a lack of co-ordination between science and maths A-levels.
The statement also warns that a progress report on A-level reform, also published on Friday, fails to address concerns that A-level science exams have become too easy.
"The translating of course specifications into exam questions is very important", Prof Peter Main of the Institute of Physics told BBC News.
He added that schools prefer to use exam boards that give them the best chance of A grades for their students and that competition between exam boards for schools has led to exam questions becoming easier.
In order to address this he argues that the learned societies represented by Score, must play more of a role in course design while the awarding organisations "need to be held in check".
In the statement, Score, which is made up of the Association for Science Education, the Institute of Physics, the Royal Society, the Royal Society of Chemistry and the Society of Biology, argues that it is "ideally placed to play a leading role in any qualifications reform, being independent and able to bring together all of the stakeholders concerned".
Reform programme
But it adds that it has "not been involved in any meaningful way in discussions around the content of A-level".
"We support Mr Gove's notion that the main users of A-levels - higher education and employers - should have a stronger say in devising A-level content.
"We do not believe, however, that the process used for reform has been effective in achieving this.
"As it stands, the process will not improve the process of assessment or build coherence between the sciences and mathematics."
The Ofqual spokeswoman said: "We are aiming for A-levels to be reformed ready for first teaching in 2015. However the next step of this reform programme is further consultation into the content and regulatory arrangements for the revised qualifications.
"Therefore, final decisions regarding science assessment have not yet been made and we will continue to listen to subject experts during the consultation period in the autumn."