Private tuition boom for wealthy 'risks learning gap'
By Judith Burns
BBC News education reporter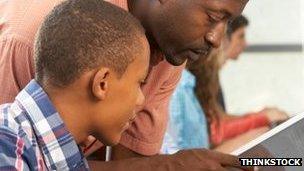 Private tuition for state school pupils is booming, particularly among wealthier families and in London, suggests a poll of 11- to 16-year olds.
Some 31% of wealthier pupils received private tuition last year compared with 15% from poorer families, according to a survey for the Sutton Trust.
For Londoners the figure was 40% - but only 9% for pupils in Wales.
The Sutton Trust's Sir Peter Lampl said it was "crucial" to narrow the learning gap for less advantaged children.
The poll of more than 2,500 11- to 16-year-olds in England and Wales revealed that almost a quarter (24%) had received private or home tuition at some point in their school careers - up from 18% in 2005.
In the past year alone, some 24% of the Londoners polled said they had received extra coaching, against only 5% of their Welsh peers.
The Sutton Trust quotes analysis from a private tuition website earlier this year which found the typical cost was £22 an hour, rising to between £30 and £40 in London.
"Parents naturally want to do their best for their children", said Sir Peter.
But he added:"Providing private tuition for them puts those children whose parents can't afford it at a disadvantage.
"That's why it is so crucial that we find a successful way to ensure that the learning gap is narrowed for less advantaged children."
"There is a bit of a middle class arms race going on in some areas when it comes to tuition - particularly in London", said Nick Bent of the Tutor Trust which delivers free tuition to pupils on free school meals in Manchester.
The project, partly funded by the Sutton Trust's sister charity, The Education Endowment Foundation, has tutored more than 2,000 pupils in more than 50 schools since it began less than two years ago.
Directors Abigail Shapiro and Nick Bent say the poll's findings reveal an interesting picture of the pattern of tuition across England and Wales.
They said it was important to "level up" opportunities for every child to fulfil their academic potential "regardless of postcode or parental income".
In other initiatives some headteachers have opted to fund tutoring for disadvantaged students using the pupil premium, which is paid by the government to schools for every child on free meals.
Elsewhere Tutorfair, a commercial tutoring company has pledged that for every student who pays, it will give tuition to a child who can't.
The survey was part of the Ipsos MORI 2013 Young People's Omnibus questionnaire carried out among a weighted sample of 11- to 16-year-olds.
Related Internet Links
The BBC is not responsible for the content of external sites.