London council considers opening schools in split shifts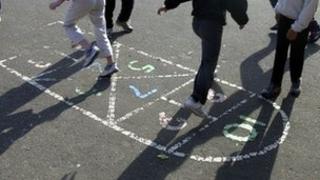 Some schools in England could radically change the way they operate, as the demand for primary places continues.
This could see schools running in two shifts on the same site at different ends of the week - Monday to Wednesday then Thursday to Saturday.
Or schools running a set of classes between 8am to 2pm and another between 2pm and 8pm for different pupils.
In the east London borough of Barking and Dagenham, a 50% rise in the number of under-fours since 2001 means its primary schools are bursting at the seams.
And with every bit of playground, disused council building and space ear-marked for teaching use, it argues it could have no option but to have schools opening in shifts.
'Worst-case scenario'
Deputy council leader Rocky Gill says if the council does not receive the money it says it needs to accommodate its burgeoning number of pupils, it will have to go for this "radical option".
"We don't want to have to do it. We don't want to have two schools using the same site. But we can't simply say to parents, 'Go out of the borough'."
He adds: "My surgeries are full of residents who have three children in three different schools in separate boroughs.
"This our worst-case scenario if we don't receive the money in two years' time. So if we have to do it, then that's what we will have to do."
Like all local education authorities, Barking and Dagenham has a statutory duty to offer all school-aged children a school place.
It is planning to convert commercial sites, such as retail warehouses and pubs into schools. Building a school in a park is also an option.
And it insists that it has does all it can to expand exiting sites with the funds available.
Free school factor
It estimates it needs £50m a year for the next 10 years, and says it has be been making its case to the Department for Education since 2010 when the national school building programme, Building Schools for the Future was axed.
Despite receiving £90m in the past two years to help with demand, over the next two years its grant to address the problems only tops £28m.
But aren't new free schools helping to deal with the demand?
Mr Gill says not really: "The quality of applications has been really sketchy and very poor. They are from groups that have little understanding about how to open up a school, let alone run it.
"If the government gives us the money then we will open up the schools that we need."
One 10-form entry free school run by a local Barking and Dagenham co-operative has been approved in principle - but it is not due to open for several years.
The more complex educational landscape has made it more difficult for the council to deal with an already difficult situation.
The requirement that any new school should be a free school or an academy has tied the council's hands somewhat. And it says it has not been inundated with applications from academy chains wanting to set up schools.
Worse still, the bulge in school-age children will soon hit the area's secondary schools. From 2014 the pressure on secondary school places really steps up.
A 12-form-entry school at secondary level is required by 2017.
But with the council still grappling with primary school problems - the future for the borough's children is an uncertain place.