Top GCSE grades increase for private school pupils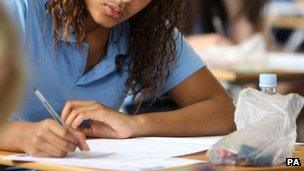 Almost a third of GCSE entries from pupils from private schools achieved the top grade, figures have shown.
The Independent Schools Council (ISC) said 32% got an A* grade in GCSEs and international GCSEs (IGCSE), a rise of one percentage point on last year.
The ISC said private school pupils scored four times as many top grades as students across the country generally.
Among pupils at ISC schools, IGCSEs accounted for 32% of entries - up from 24.9% last year.
On average, each pupil achieved two A* grades and seven A grades in their results.
Westminster School topped the table with 98.16% of entries awarded A or A*, and 100% at C or above.
The school, attended by Deputy Prime Minister Nick Clegg, takes only boys between the ages of 13 and 16 and admits girls in the sixth form.
In second place was the girls-only North London Collegiate School with 97.94% of entries at A or A*, and 99.9% at at least C grade.
The school's headmistress, Bernice McCabe, said more students were taking IGCSEs because GCSEs were not challenging enough.
"We have found that in many subjects IGCSEs are more stimulating for our students," she said.
IGCSEs are based on final exams rather than ongoing assessment - and because they are available in different countries they do not have to adhere to the English national curriculum.
Girls' schools occupied seven out of the top 10 places in the league table, along with two boys' schools and one mixed.
ISC chairman Barnaby Lenon said he was pleased with the results.
"It is remarkable that the proportion of entries awarded grade A* has risen, bucking the national trend where there has been a fall in the proportion attaining the top grade," he said.
Related Internet Links
The BBC is not responsible for the content of external sites.