Warning to schools over multiple exam entries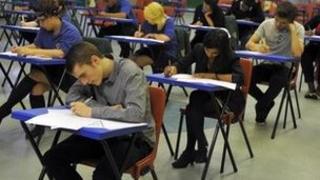 Examiners are warning that schools that enter pupils for multiple exams in the same subject are "misguided".
Michael O'Sullivan, head of Cambridge International Examinations (CIE), said it was better for pupils to sit one exam for which they were well prepared.
New figures published by CIE show the numbers of pupils being entered for its International GCSE (IGCSE) in English Language have tripled in a year.
Entries for IGCSEs in science have doubled in a year.
The board said that, while it was pleased with the increased uptake, it was concerned that pupils were being asked to sit more than one exam in the same subject, for example both a GCSE and IGCSE in English language.
The comments come two weeks after England's exam regulator, Ofqual, warned that schools were entering teenagers for GCSEs early, or multiple times, to secure good grades.
Entries rise
CIE's latest figures show here have been 63,000 entries for IGCSE English language this year, up from 18,000 in 2012, and science entries have risen from 4,000 last year to 9,000 in 2013.
There have been about 20,000 late entries for IGCSE English language, the board said, adding that schools had suggested decisions were being made late on to enter pupils for the exam alongside others in the same subject, such as GCSE.
In some cases, this suggests that pupils did not starting preparing for the IGCSE until March, before sitting the papers just weeks later in May and June.
Mr O'Sullivan said: "It is very pleasing to see that more schools find that Cambridge IGCSE meets their needs. We understand the importance which is often placed on achieving grade C.
"However, we believe that entering for more than one examination in the same subject is misguided. It is not a sustainable way of improving performance or helping students learn - and indeed, our grades in English are down.
Tougher
"We believe it is better that students enter one examination for which they prepare over the full length of the course."
The government announced more than two years ago that state schools in England would be able to offer IGCSEs and that the qualifications would count towards school league tables.
The exams have long been favoured by many independent schools, which believe they are tougher than GCSEs.
Ofqual suggested this month that the importance of gaining at least a C grade in key subjects such as English and maths, as well as the pressure of league tables on schools, was fuelling the move towards multiple exam entry.
Chief regulator Glenys Stacey suggested that multiple entries were being used as a "tactic" to help students gain a C grade, and that there was a "fine balance" between doing the best for a pupil and demotivating them.
'Fair mark'
A row broke in the summer last year over GCSE English grades, with school leaders claiming thousands of teenagers unfairly received lower than expected results in the subject after grade boundaries were moved between January and June.
Brian Lightman, general secretary of the Association of School and College Leaders, said the rise in IGCSE entries was "undoubtedly a reaction to the problem with last year's English exams.
"Many schools lost confidence in the GCSE exam system to grade students fairly, and they have turned to IGCSEs.
"Under normal circumstances we wouldn't condone schools double-entering students for exams but it is understandable after what happened to last year's English results.
"Many students who worked very hard didn't get the grade they deserved. Teachers don't want students to have to go through that again, and double entry gives them an extra chance to get a fair mark for the work they put in."