Poor exam grades crush young people's ambition, study says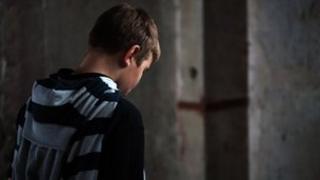 One in five young people in the UK say they have "abandoned their ambitions" because of poor grades, warns a report.
Some 34% of 2,300 16 to 25-year-olds with poor grades polled for The Prince's Trust charity believed they would "end up on benefits".
It said many had experienced problems at school or home so exam results did not reflect their true potential.
The government said it was "taking decisive action to transform vocational education".
A spokeswoman for the Department for Education (DfE) said the government would fund "a place in education or training for every 16 and 17-year-old who wants one".
According to the poll, more than a quarter (26%) of those who left school with poor grades believed their results would always hold them back.
"Thousands of young people's ambitions are crushed by exam results each year," said Prince's Trust chief executive, Martina Milburn.
'Hopeless and jobless'
She said many young people with poor results "have faced problems at home or bullying at school".
"It is more important than ever to invest in vocational support and training for young people who are not academically successful.
"Government, employers and charities must work together to get them into jobs.
"Without this, thousands will struggle to compete, leaving them hopeless and jobless."
The study found that those with poor qualifications had often faced "significant barriers to learning at home".
They were more than twice as likely (29%) as those with good qualifications (12%) to agree that they had "struggled to concentrate on schoolwork due to family problems".
About 22% of those with few qualifications said their "home life was so stressful that they struggled to focus on homework". This compares with just 11% of all young people.
Skilled trade
Less successful students also reported that they were less likely to have access to a computer or the internet at home than their peers.
About 44% of those with poor grades said they had a computer at home compared with 70% of the age group as a whole.
The DfE spokeswoman said an overhaul of vocational qualifications would improve the prospects of less academic students by recognising "only high-quality courses that lead to a skilled trade or profession".
She added that the government's new studio schools and university technical colleges would give employers more say in the curriculum, "while the new Tech Levels and our Technical Baccalaureate will finally put high-quality vocational education on a par with A levels".
But shadow education secretary Stephen Twigg accused the government of doing too little to help young people who do not go to university.
"With A-level results out this week, we know many young people have high ambitions. But sadly, this government is holding them back by cutting careers advice, threatening school standards, and leaving nearly a million young people out of work," he said.
The report draws on official statistics showing that last year about 40% of school leavers in England alone did not achieve the required standard of five good GCSE results including English and maths.
This amounts to almost 250,000 young people, says the report.
The research was funded by HSBC.